WWF Protests Against Sakhalin Project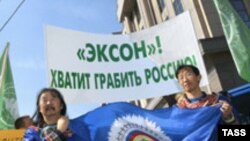 Environmentalists in Moscow hold placards reading "Exxon! Stop robbing Russia!" during a July 2005 protest against the Sakhalin-II project (ITAR-TASS) May 21, 2006 -- The Worldwide Fund for Nature (WWF) today pleaded with the European Bank for Reconstruction and Development (EBRD) to deny financing for a major oil and gas project in Russia's Far East.
In a statement issued on the sidelines of the EBRD's annual conference in London, the WWF cited "numerous breaches" of regulations and standards during the construction of pipelines on the island of Sakhalin as part of the Sakhalin-II project.
(AFP, Reuters)