There are concerns that Russia is being overly ambitious in its plans to be a supplier of gas to both East and West -- especially as its own domestic gas demand is steadily rising.
Putin was upbeat in Beijing. Speaking on March 23, he assured all Russia's energy customers that they have nothing to worry about. "Russia will, without question, fulfill its [gas-supply] obligations under all existing agreements with all our partners, in both Asia and Europe. Regarding the Asian market, we intend to diversify our export opportunities and enter new and sustainable markets," Putin said.
Gas Resources
Some industry analysts, however, are not convinced that Russia has the means. Valery Nesterov, an oil and gas analyst with Troika Dialog investment bank in Moscow, told AP on March 21 that "I don't see where Russia in the foreseeable future can pile up these resources," adding that the China deal might be "meant to strengthen Moscow's bargaining position with European gas buyers."
Aleksei Miller, the CEO of Russia's gas monopoly Gazprom, has said that the gas for export would come from both Eastern and Western Siberian gas fields via two pipelines. However, in the same AP interview, Nesterov greeted this statement with skepticism saying that Western Siberian fields are "already stretched thin."
TheKovytka field will reportedly supply the majority of gas to China from Eastern Siberia. A 2004 Russian gas-industry study, not for publication but which RFE/RL has obtained, puts the proven reserves of Kovytka at 2.1 trillion cubic meters. Another possible gas field in the Eastern Siberian region, which could provide gas for China, is Chayadynsk in Yakutia with 1.2 trillion cubic meters of proven reserves. The Sakhalin 1 and 2 fields have a proven reserve of 900 bcm. In total, Eastern Siberia is said to have proven gas reserves of 6.6 trillion cubic meters.
But will it be enough? According to the gas-industry study, Russian gas production in 2010 is estimated to be 665 bcm. That year, Russian domestic demand is forecast to be around 479 bcm, exports to European customers are projected at 161 bcm, exports to CIS customers at 80 bcm, and 24 bcm to Asia. In order to meet its commitments, the study notes that Russia will need to import 84 bcm from Central Asian producers; that would then leave it with 5 bcm of gas to spare.
Russia needs to invest heavily in new Eastern Siberian fields to make up for falling productivity in its Western Siberian fields. Gazprom is reportedly strapped for cash and would need to obtain major credit lines from the West and possibly China in order to achieve its production goals for 2010.
Central Asian Gas
But the success of simultaneous gas exports to China and Europe seems to be contingent upon Russia's ability to buy large quantities of Central Asian gas.
Central Asia's gas reserves are large enough in theory to sustain both Russia's export and domestic needs for the foreseeable future. Russia has been investing in Central Asia's energy sector for a while. In January, Interfax reported that Gazprom will invest $1.5 billion in Uzbekistan's gas sector, including seven exploration projects in the Aral Sea.
And according to a September 27, 2005, Interfax report, "Gazprom and the Kazakh company, KazMunayGaz [have] created a joint venture which plans to supply 15 billion cubic meters of Karachaganak gas to Orenburg in Russia annually."
One problem with getting Central Asian gas is the region's upstreamproduction capacity, which is still limited and unprepared to handle large volumes for both domestic and export needs.
Diversifying Markets
Another problem is the desire of the Central Asian countries to diversify markets for their gas.
Turkmenistan, for example, is also looking to Iran. The $190 million Korpezhe-Kurt Kui pipeline from Turkmenistan to Iran, which was launched in 1997, is the first natural-gas export pipeline in Central Asia to bypass Russia.
In March, Turkmenistan raised the price of gas for Iran to $65 per 1,000 cubic meters, up from $42. Iran announced in early March that it intends to buy 8 bcm of gas from Turkmenistan this year, up from 5.8 bcm in 2005, and 14 bcm a year starting in 2007. In July 2005, Turkmenistan and China signed an agreement on oil and gas cooperation and China extended a $24 million low-interest loan to Turkmenistan for the development of its oil and gas industry, the "China Daily" reported on November 24, 2005.
And in Kazakhstan, Kenzhegali Sagadiyev, chairman of the finance committee of the lower house of parliament, was quoted by "The Washington Times" on March 16 as saying that his country does not want to rely solely on Russian pipelines to reach major export markets. "Our goal is to build multiple pipelines in multiple directions," Sagadiyev said. "We have concluded an agreement with China, and we want very much to participate in the [Baku-Tbilisi-Ceyhan] pipeline."
Central Asia could well be the Achilles' heel of Russia's gas export plans. The main trunk artery, the Central Asia Center pipeline, which is shared by Russia and the Central Asian states, is in need of major repairs and has a limited capacity of 38 bcm -- most of which is used to send gas to Ukraine. The high potential for political instability in the region and the proclivity of Central Asian leaders to conclude their own separate agreements with China and other countries could well scupper Gazprom's plans to rely on Central Asia to meet its own rising gas needs.
Central Asia Gas Pipelines
Central Asia Gas Pipelines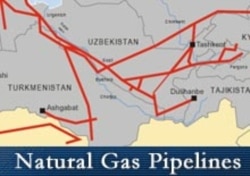 Click on the map for an enlarged image.

Russia's rising appetite for Central Asian gas is a direct result of the shifting fortunes of Gazprom, the state-run Russian company that controls lucrative exports. The company's total gas production has flatlined at around 550 billion cubic meters (bcm) a year. With major fields yielding less as they age, Gazprom has chosen to maintain its all-important gas balance by purchasing gas on the side -- from independent producers in Russia and from Russia's Central Asian neighbors -- instead of investing in the lengthy and costly development of untapped Arctic fields...(more)
See also: