"The commission is following the situation very closely," Tarradellas Espuny said. "I can confirm that there has been an interruption of oil supplies through the [Druzhba] pipeline in Poland and my services are looking for information [on] whether such a cut has had an impact in other branches of the pipeline [across Europe]."
EU Wants Answers
Spokesman Tarradellas Espuny said that the EU has demanded urgent explanations from both Moscow and Minsk.
"We have contacted the Russian and Belarusian and demand[ed] clear and detailed explanations of the causes of the interruption," Tarradellas Espuny said. "This interruption could be motivated, it's possible as well, [by] technical reasons."
"They assumed they would be siphoning off [oil] -- unauthorized siphoning. In diplomatic language, this is how you call what the Belarusian side is doing today." -- Transneft head Semyon Vainshtok
Alyaksandr Bordouski, the chief engineer at Homyeltransnafta Druzhba, told RFE/RL that the firm made "reductions" in oil supplies following an order from Belarus's state oil firm, Belneftekhim.
Russian Deputy Trade and Economic Development Minister Andrei Sharonov later told ITAR-TASS that Russia had stopped delivering oil to the Druzhba pipeline, which pumps Russian oil across Belarus, as a result of the supply disruption. "Now there is a threat to the fulfillment of international contracts between Russian companies and companies in Western Europe and Eastern Europe," the news agency quoted him as saying. "We view this situation as force majeure, as the onset of unavoidable circumstances."
Semyon Vainshtok, the head of Russia's state pipeline operator Transneft, told reporters in Moscow today that "the Belarusian side cancelled the agreements reached on supplies of oil to its own oil refineries for the month of January. Why? Because they assumed they would be siphoning off [oil] -- unauthorized siphoning. In diplomatic language, this is how you call what the Belarusian side is doing today."
Gas Resolved, Oil Emerges
The development comes amid a protracted debate between Russia and Belarus over energy supplies and oil fees.
The two countries averted one potential crisis when a last-minute agreement was reached on Russian natural-gas supplies to Belarus for 2007. Under the deal, Belarus will pay Russia more than double the amount it paid in 2006.
But oil became the new bone of contention after Russia imposed an export duty of $180 a ton on oil sold to Belarus.
In turn, Belarus announced plans to impose a tax of $45 per ton of Russian oil transiting Belarusian territory on its way to the EU.
The Druzhba pipeline carries a total of 75 million of tons of oil annually across Belarus, accounting for about one-third of Russia's oil exports to Europe.
However, Tarradellas Espuny said today that EU member states have no cause for immediate alarm. He said Germany, which receives 20 percent of its oil via the Druzhba pipeline, has sufficient oil reserves for 130 days.
Poland, he said, has enough to last 70 days without further imports. Oil refineries in the EU routinely maintain two-weeks' supply, he added.
Nonetheless, Tarradellas Espuny said EU energy commissioner Andris Piebalgs is "considering" a meeting of EU oil experts in Brussels later this week to examine the adequacy of the measures the bloc has in place to assist member states suffering from oil shortages.
How Much Do The Neighbors Pay?
How Much Do The Neighbors Pay?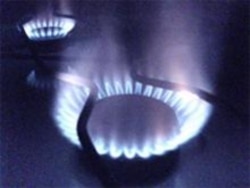 SETTING THE RATES: With Gazprom negotiating new contracts, many states will be paying more for Russian natural gas in 2007.
Belarus, following tense negotiations with Gazprom, will pay $100 per 1,000 cubic meters in -- up from $47 in 2006. Ukraine, which depends on Russia to supply it with about 77 percent of its gas, will pay $130 per 1,000 cubic meters of a Turkmen-Russian gas mix. Moldova, which depends on Russia for 100 percent of its gas, will pay $170 per 1,000 cubic meters, with the price rising to European-level market price by 2011. Georgia has agreed to pay Gazprom $235 per 1,000 cubic meters of gas.
ARCHIVE
A
complete archive
of RFE/RL's coverage of energy issues in the Caspian Sea region and Russia.