Both Georgia and Azerbaijan made it clear late last year they were reluctant to pay Gazprom's new proposed price of $230-235 per 1,000 cubic meters.
Both countries have been scrambling for alternative solutions. The Georgian government claimed in late December to have negotiated agreements with Turkey and Gazprom that will enable it to meet its estimated requirement for 2007 of 1.7-2 billion cubic meters (bcm). But the quid pro quo reached with Turkey may result in a gas shortfall in 2008.
Azerbaijan for its part began ramping up domestic production in 2006 and will continue to do so in 2007 with the aim of extracting sufficient gas in 2008 to cover all its domestic needs.
'Market Rates'
Georgian officials immediately challenged Gazprom's stated rationale for the planned price hike -- the need to charge market rates. They denounced the new price as politically, rather than economically motivated.
Such objections are perhaps valid insofar as Gazprom announced different rates for different countries: Belarus will pay $110 per 1,000 cubic meters in 2007, Ukraine -- $130, and Azerbaijan and Georgia -- $230. Armenia managed to negotiate a continuation for 2007 of the previous preferential rate of $110.
Georgian Prime Minister Zurab Noghaideli initially said Tbilisi would not pay the new price of $230 and hoped to reach agreement with Azerbaijan and Turkey on increasing the amount of gas Georgia would receive from Azerbaijan's Shah Deniz offshore field in the Caspian Sea that was due to come on stream by the end of the year. Production at Shah Deniz got under way on December 19 but was suspended days later due to a gas leak at the first well. Azerbaijani officials said it may take weeks to repair.
Shah Deniz Field
Even before Gazprom's price bombshell, Georgia had sought unsuccessfully to negotiate with Baku an increase in the amount of additional Shah Deniz gas it could purchase. Under an agreement signed in October 2003, Georgia is to receive in 2007 200 million cubic meters of gas as transit fees for the Shah Deniz gas exported via the Baku-Tbilisi-Erzerum pipeline. That is equivalent to 5 percent of projected total exports in 2007. Georgia also has the option of purchasing a further 50 million cubic meters at $50 per 1,000 cubic meters.
But Baku, faced with a similar price hike to $230 and a reduction in the amount of gas it buys from Gazprom from 4.5 to 1.5 bcm, was reluctant to cede to Georgia any of its own projected share of the gas to be extracted from Shah Deniz in 2007.
Azerbaijan's annual consumption is officially given as 12 bcm; it will receive 4.3 bcm in 2007 from Shah Deniz and a further 6.4 bcm from other fields, according to calculations by Oil Research Center director Ilham Shaban, quoted by zerkalo.az on December 28.
Azerbaijan consumes much more gas than Georgia -- not just because of the difference in land area and population size -- but also because Azerbaijan relies on gas-fired power stations for 80 percent of its electricity needs.
Deal Struck
Only after three rounds of talks between the energy ministers of Georgia, Azerbaijan, and Turkey, and a face-to face meeting in Ankara between Georgian President Mikhail Saakashvili and Turkish Prime Minister Rejep Tayyip Erdogan, was an agreement reached in mid-December. Turkey will cede to Georgia the 800 million cubic meters of Shah Deniz gas it was to have received in 2007, on condition that Georgia "pays back" the equivalent volume of gas in 2008.
Even though it has contracted to purchase more gas than it needs, Turkey rejected Georgian offers to "pay" for the Shah Deniz gas in electricity or cash, according to the Georgian daily "Rezonansi" on December 22. In addition, Azerbaijan will sell to Georgia 1 million cubic meters of natural gas daily during the 2006-2007 "winter period" at a price of $120 per 1,000 cubic meters, a concession that President Saakashvili described on December 26 as "political heroism."
The total volume of gas, from Shah Deniz and other fields, that Georgia will receive from Azerbaijan in 2007 still falls short of its projected total needs, however. That presumably is why individual Georgian gas suppliers nonetheless agreed on December 22 to buy 1.1 bcm (according to some sources, as much as 1.46 bcm) of gas from Gazprom in 2007 at a price of $235 per 1,000 cubic meters, or $5 more than Gazprom said two months earlier it would charge.
Georgia-Gazprom Deal
Georgian Prime Minister Noghaideli was quoted by "The Wall Street Journal" on December 23 as saying that agreement is "a short-term solution" and that once technical problems that are delaying production at Shah Deniz are solved, Georgia will cease purchasing Russian gas in favor of cheaper gas from Shah Deniz.
But it is not clear whether, by 2008, Shah Deniz will be producing enough gas to permit Georgia to purchase the additional 800 million cubic meters it must supply Turkey with that year. And, if not, where will Georgia find both the additional gas that it will "owe" Turkey, and the amount it will need for domestic consumption?
Iranian Gas
Any hopes the Georgian (or Azerbaijani) government may have had of buying gas from Iran now look increasingly remote. The U.S. administration has made clear its displeasure at the prospect of any significant Georgian dependence on Iran. That country is currently hard pressed to meet domestic demand, which has risen by 45 percent in 2006, Iranian Deputy Oil Minister Hasan Kasai told ILNA on January 1. Kasai said Iran has scaled back exports to meet domestic demand for gas. Iranian gas exports to Turkey have been suspended, according to thenewanatolian.com on January 4.
Meanwhile, faced not only with a steep price hike but a two-thirds reduction in the volume of gas Gazprom was prepared to offer, Baku has announced that it will not buy any Russian gas in 2007. The Azerbaijani authorities are clearly angered that Gazprom will continue to sell gas to Armenia at the preferential 2006 price of $110 per 1,000 cubic meters.
Azerbaijan's state oil company SOCAR has intensified the extraction of gas since early 2006 by 43 percent, to 15.6 million cubic meters per day, the daily zerkalo.az reported on December 30. It also plans to drill new wells to increase production by a further 3-3.5 bcm in 2007.
By 2008, SOCAR President Rovnag Abdullayev has predicted that output should be more than enough for the country's domestic consumption.
How Much Do The Neighbors Pay?
How Much Do The Neighbors Pay?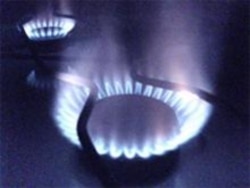 SETTING THE RATES: With Gazprom negotiating new contracts, many states will be paying more for Russian natural gas in 2007.
Belarus, following tense negotiations with Gazprom, will pay $100 per 1,000 cubic meters in -- up from $47 in 2006. Ukraine, which depends on Russia to supply it with about 77 percent of its gas, will pay $130 per 1,000 cubic meters of a Turkmen-Russian gas mix. Moldova, which depends on Russia for 100 percent of its gas, will pay $170 per 1,000 cubic meters, with the price rising to European-level market price by 2011. Georgia has agreed to pay Gazprom $235 per 1,000 cubic meters of gas.
ARCHIVE
A
complete archive
of RFE/RL's coverage of energy issues in the Caspian Sea region and Russia.