RIA Novosti quoted the chairman of the state-controlled gas monopoly Gazprom, Russian First Deputy Prime Minister Dmitry Medvedev, as saying Gazprom has signed a contract for 2007 for a volume of 1.1 billion cubic meters, an amount that falls short about 700 million cubic meters than the country's expected needs.
The move ends months of speculation as to whether Georgia was prepared to accept Gazprom's demand that it pay more than double the $110 it currently pays for gas.
Before Gazprom's announcement, Georgia had said it would buy gas from Azerbaijan instead of Russia.

But Georgian Prime Minister Zurab Noghaideli said after today's agreement with Gazprom that Azerbaijan would not be able to supply gas in the early part of 2007.

Noghaideli said unspecified "technical reasons" at the massive Shah Deniz field prevented the delivery of Azerbaijani gas. But he sought to reassure Georgians that once technical obstacles are removed, Azerbaijan will become Georgia's main gas supplier.

"Our strategic choice remains unchanged, and as soon as technical problems are solved at the drilling wells, we will start receiving gas mainly from Azerbaijan," he said.

(with material from news agencies)
How Much Do The Neighbors Pay?
How Much Do The Neighbors Pay?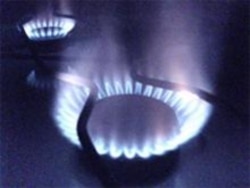 SETTING THE RATES: With Gazprom negotiating new contracts, many states will be paying more for Russian natural gas in 2007.
Belarus, following tense negotiations with Gazprom, will pay $100 per 1,000 cubic meters in -- up from $47 in 2006. Ukraine, which depends on Russia to supply it with about 77 percent of its gas, will pay $130 per 1,000 cubic meters of a Turkmen-Russian gas mix. Moldova, which depends on Russia for 100 percent of its gas, will pay $170 per 1,000 cubic meters, with the price rising to European-level market price by 2011. Georgia has agreed to pay Gazprom $235 per 1,000 cubic meters of gas.
ARCHIVE
A
complete archive
of RFE/RL's coverage of energy issues in the Caspian Sea region and Russia.