But the frozen conflicts of Abkhazia and South Ossetia are making it hard for Georgia to make a clean break.
And Georgia's enthusiasm to join the West has caused a degree of consternation at the European Union. The EU has warded off talk of membership prospects with a recently signed European Neighborhood Policy action plan.
Georgian Prime Minister Zurab Noghaideli has denied further ambitions -- but has made it clear the reason lies with the EU, not Georgia.
"Not at this stage, at least. Definitely, I think that there is certain enlargement fatigue in the EU itself and I think that any discussion of something else [than] the European Neighborhood Policy action plan now with the EU is just totally counterproductive," Noghaideli says.
Noghaideli said the EU will remain the "primary focus" for Georgian foreign policy. The country also wants to join NATO and that is a more likely option, thanks to U.S. support.
Frozen Conflicts
But Georgia's Western leanings have caused relations with Russia to worsen -- in particular over Georgia's breakaway regions of South Ossetia and Abkhazia.
The conflicts are the biggest obstacle on Georgia's path away from Russian domination. Intermittent talks with South Ossetia's and Abkhazia's separatist leaders -- always in the presence of Russian officials -- have brought little success.
At this point South Ossetia is the more acute of the two conflicts. A Western official in Tbilisi, who asked not to be named, says there is concern Georgia could be preparing for war.
Building Up The Military
He points to Georgia's recent purchases of heavy weaponry, what he calls the intensive "militarization" of Georgian society, and the deployment of a military hospital, complete with a morgue, to Georgia's biggest military base in Gori, which is close to South Ossetia.
The Western official says that the separatist leadership in South Ossetia's capital Tshinkvali is "genuinely afraid" an attack is imminent.
But other experts have said that Georgia wouldn't risk an armed conflict as it would put an end to the country's bid to join NATO and the EU.
Prime Minister Noghaideli says the situation in South Ossetia is complex. "Inside the conflict zone it is like a chess board, there is a Georgian village, Ossetian village, Georgian village again, so everything is mixed up. And in the case of villages even it is not like that [there are] purely ethnically Georgian villages and purely ethnically Ossetian villages. It's not like that, there are mixed-up populations in territories [controlled by both sides], so we are talking of a very complex and difficult situation," Noghaideli says.
Russia's Role
The November 12 independence referendum in South Ossetia has been followed in the official's words, by a "political vacuum." He says South Ossetia now effectively has "four presidents" -- Saakashvili, the separatist Eduard Kokoity, local Georgian-backed rival Dmitry Sanakoyev, and, inevitably, Russia's Vladimir Putin.
But the Western official notes that much of the region's reputed allegiance to Russia is pragmatic, rather than political. He says the locals' preference for Russian passports is mostly explained by access to Russian pensions and social security payments -- both considerably higher than in Georgia.
Georgian passport holders are currently also unable to travel in Russia, as Moscow denies them visas. Travel in Russia is for many an essential source of income through small-scale smuggling.
Russia, in turn, does not treat Tshinkvali overly kindly. Having banned Georgian imports, it now also rejects South Ossetian agricultural produce.
In Georgia's other frozen conflict, Abkhazia, the situation has also become more tense in recent months with the appearance of a Tbilisi-backed alternative government in a Georgian-controlled part of the region. The alternative government is backed by Georgian troops. Unlike South Ossetia, Abkhazia does not want to join Russia, but is angling for independence.
To resolve either conflict, Georgia needs Russian cooperation. But that increasingly looks less and less likely.
Noghaideli says the Georgian leadership is convinced Moscow is trying to do more than just stoke separatist tension. He says Russia has "never hidden they want regime change in Georgia": "Regime change could only happen here through possible violence. [But], actually I would say it is impossible. That [is the] attempts [are there], but it is not possible."
WTO Negotiations
Georgia is not entirely without leverage. In a recent move, Tbilisi threatened to block Russia's bid to join the World Trade Organization (WTO), demanding control of the separatist regions' borders with Russia.
Tbilisi is trying to force Russia to honor a 2004 agreement, which says the conflicts are an internal Georgian matter.
Russian Sanctions On Georgia
Russian Sanctions On Georgia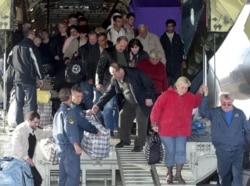 Georgian deportees arriving in Tbilisi on October 6 (epa)
RUSSIA DEPORTING GEORGIANS. Despite Georgia's release of four military officers accused of spying on October 2, Russia has continued its transport and postal blockade of Georgia, and has also deported hundreds of Georgians.... (more)
RELATED ARTICLES
Council Of Europe Head 'Concerned' About Reports Of Russian Sanctions
'No Time To Send Ambiguous Messages'
Ethnic Russians Feel Insulated From Tensions
Explaining West's Muted Response To Crisis
MORE: Coverage of the situation in Georgian from RFE/RL's Georgian Service and in Russian from RFE/RL's Russian Service.
ARCHIVE
RFE/RL's English-language coverage of
Georgia
and
Russia
.