PRAGUE, November 22, 2006 (RFE/RL) -- Two years ago today, Kyiv's Maydan (Independence) Square was filled with the sound of protesters chanting "Yushchenko!" and calling for a fresh -- and fair -- round of presidential elections.
It's a far cry from the laments that could be heard in the Ukrainian capital this week.
"We thought the whole system would change, that all dubious figures
would be purged from the political elite. This didn't happen."
"Everything went in a way we didn't expect," journalist Hryhoriy Vahapov told Reuters. "We thought the whole system would change, that all dubious figures would be purged from the political elite. This didn't happen."
Vahapov is one of the tens of thousands of Ukrainians who returned to Maydan night after night in bitter cold to protest falsified election results and bring then-opposition candidate Viktor Yushchenko to the presidency.
180-Degree Turn?
The electric atmosphere of the Orange Revolution captured the world's attention and was hailed by many as the final step needed to break free from Moscow's grasp and run with open arms toward the West.
Two years later, however, it is the revolution's villain -- Viktor Yanukovych -- who has risen to political primacy. He is now prime minister, backed by a ruling parliament coalition led by his Party of Regions.
Yushchenko, by contrast, has seen his star fall. He has parted company with his revolution ally, the charismatic Yuliya Tymoshenko, and seen his Our Ukraine bloc -- and its Western aspirations -- retreat into the opposition.
The Ukrainian president appears unwilling to give up the fight. But his tone is sometimes less than triumphant.
"Things aren't over yet," Yushchenko told Reuters. "If you value the democratic process, if you value the fact that the nation came of age and formed opinions over time on specific values, let's respect that. But for some reason, some people want everything here and now, this minute. I believe this is the wrong approach."
Georgia's Uprising
Ukraine's muted two-year anniversary comes one day before the three-year anniversary of a second popular uprising -- Georgia's Rose Revolution.
In 2003, opposition activists stormed the Georgian parliament to demand the resignation of entrenched leader Eduard Shevardnadze and call for new elections to replace an earlier parliamentary vote widely criticized as rigged.
From Shevardnadze's ashes rose a new generation of young, Westward-looking officials -- led by Mikheil Saakashvili, who took over as president in January 2004.
Still Standing
On the surface, Saakashvili has had greater success than his Ukrainian counterpart in maintaining a steady political course.
The government is not without its detractors, and an Interior Ministry shake-up earlier this year called into question the integrity of the Georgian leadership.
But local elections in October were seen as a critical affirmation of Saakashvili's leadership. The ongoing standoff with Russia, moreover, may have infused Georgian society with a higher-than-usual sense of solidarity. This is a notable contrast from Ukraine, where Russia plays a highly divisive role.
Moscow retains an undeniable influence on both Georgia and Ukraine, and showed no regrets about Yushchenko's loss of stature. Both Tbilisi and Kyiv have raised Russian hackles by paving a hasty course toward Western integration.
No Clear Direction
Some analysts now see a long battle ahead as the two countries hang in the balance between a possessive Russia and an increasingly cautious Europe.
"As far as Western, or European, aspirations are concerned, I feel that both countries are on the right track, even though we see a degree of Euroskepticism," says Jakub Boratynski, a political expert with Poland's independent Stefan Batory Foundation, which works to support democracy-building in Central and Eastern Europe.
"But I think this has a lot to do with the feeling that the EU is giving inadequate encouragement. I think it's going to be a very long and painful process, but these countries will be moving toward the West. This process, however, will be periodically obstructed by Russia, which unfortunately in the current political situation sees this as a zero-sum game."
Adding to the mix of the colored revolutions is the spring 2005 Tulip Revolution in Kyrgyzstan, which saw the overthrow of the government of authoritarian leader Askar Akaev.
The Kyrgyz political climate remains far from settled, with the government opposition reforming along new political lines. But the fluidity permits a degree of political flexibility. Opposition protests earlier this month forced through constitutional changes that substantially reduce the president's powers.
Living History
While the long-term legacies of the colored revolutions may be hard to gauge, observers say there are short-term achievements of value.
The most notable example may come in Ukraine, although its results may be difficult for some Yushchenko supporters to swallow -- the March 2006 parliamentary elections that brought Yanukovych and the Party of Regions to power was generally deemed by observers to be the country's cleanest post-Soviet election.
"If you ask me today whether I'm prepared to do it all again, I would say 'Yes, without question.'"
Even though supporters of the Orange Revolution are seeing their hopes of political change fade, Boratynski says the country's mass public uprising of two years ago still puts it far ahead of a country like Russia, where civic activism is weak at best.
"I think the legacy of the Orange Revolution is the Ukrainian people's feeling that they can choose their own government," Boratynski says. "This sound pretty basic and banal, but I think the fundamental fact is that it marks a huge difference with, for instance, how the situation in Russia is developing today."
So while disappointment is widespread among many of the Ukrainians who gathered for daily vigils in November and December of 2004, there are still those who say they would do it all over again.
Among them is Ukrainian pop singer Sviatoslav Vakarchuk, whose group, Okean Elzy, wrote a song extolling the spirit of the Orange Revolution.
"If you ask me today whether I'm prepared to do it all again, I would say 'Yes, without question,'" Vakarchuk says. "I would go again into the street because the values we were fighting for are those of freedom -- freedom to make decisions, freedom to be a full-fledged citizen of one's own country."
Russia And Georgia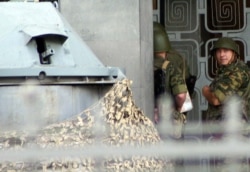 Beefed up security outside Russian military headquarters in Tbilisi on September 27 (InterPressNews)
NOT ALL WINE AND ROSES.
Moscow's relations with Tbilisi since the collapse of the Soviet Union have often been tense and strained. Among the issues that have made the relationship difficult are Moscow's alleged support for the breakaway Georgia regions of Abkhazia and South Ossetia, as well as the continued presence of Russia troops on Georgian territory. Periodically, Georgian lawmakers propose withdrawing from the Commonwealth of Independent States (CIS) altogether. RFE/RL has written extensively about the rocky relationship between these two countries.
RELATED ARTICLES
Saakashvili Seeks Meeting With Putin
Russian-Georgian Friendship Still Warm, Despite Frosty Politics
Georgia To Assess Repercussions Of Quitting CIS
Russia Impounds Georgian Mineral Water
Georgian Agriculture Minister In Moscow For Talks On Wine Ban
Russia Pledges To Complete Georgia Pullout On Schedule
ARCHIVE
RFE/RL's complete coverage of
Georgia
and
Russia
.