Georgia Asks Azerbaijan And Turkey For Gas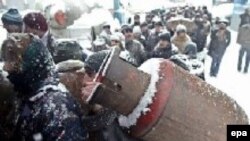 Georgians had to queue for gas in January when explosions ruptured the supply of gas from Russia (epa) November 30, 2006 -- Georgian Prime Minister Zurab Noghaideli says his country has asked Azerbaijan and Turkey to cover most of its gas needs in 2007 to replace Russian supplies of gas, which has become increasingly expensive.
He said Azerbaijani President Ilham Aliyev had agreed to help Georgia "sort out its problems."
Relations between Moscow and Tbilisi have been at their lowest point in a decade since a spying row in September.
(Reuters, AP)