In a country as opaque as Turkmenistan, the death of its immensely powerful leader makes the country's near and distant future almost completely unpredictable.
Speculation has already begun about who will replace Niyazov. But, as Konstantin Kosachyov, the head of the Foreign Affairs Committee of Russia's State Duma, noted today, "regardless of who the new leader of Turkmenistan is, one can expect a serious shift in the country's foreign policy course."
Back In The CIS?
Among the changes, Kosachyov suggested, might be a decision to seek greater integration with the Commonwealth of Independent States (CIS). Niyazov in 2005 downgraded Ashgabat's relationship with the CIS to associate, rather than full, membership.
Niyazov defended the decision as reflecting the country's policy of permanent neutrality. But Kosachyov today argued the move in fact was meant to help Niyazov consolidate his own power.
Despite the suggestion that a future Turkmenistan would be a less closed and mysterious partner, Kosachyov was pessimistic that the transfer of power would be conducted in a transparent manner.
With no democratic institutions in place and no named successor, any new leader would be chosen in what the Duma lawmaker called the "traditional Oriental way" -- i.e., behind closed doors.
Fear Of Political Unrest
Another issue of concern for Russia is whether the transition will go smoothly. Moscow has watched with concern as "colored revolutions" have prompted dramatic political changes in Georgia, Ukraine, and Kyrgyzstan.
Russia may now be worried that Turkmen society, oppressed under Niyazov's extended rule and with no clear political options, may be vulnerable to violent upheaval.
Sergei Markov, the director of the pro-Kremlin Center for Political Research, told RFE/RL, however, that neither a violent transfer of power nor a colored revolution in Turkmenistan seems likely.
Turkmenistan, he said, is lacking the essential "prerequisites" for a public revolution -- democratic institutions and nongovernmental organizations among them. "The transfer of power in Turkmenistan most likely will be characterized by interclan struggles."
Reaching Out To Opposition
Andrei Grozin, a Central Asia expert with the Moscow-based CIS Institute, told the information website globalrus.ru that he believes a violent power struggle is a very real option.
He noted the emergence of an informal opposition composed of security and military officers purged during Niyazov's frequent reshuffles of local "siloviki."
"None of them worked more than six months in Niyazov's government," Grozin said. "So they have no illusions about their own prospects or personal security."
Niyazov's death has also prompted many calls in Russia to take advantage of the current political void and assert Moscow's standing in the country.
Mikhail Margelov, the chairman of the International Relations Committee of the Federation Council, told RBC that it is "extremely important to maintain open contacts with a wide circle of the Turkmen opposition [abroad] as well as the political classes."
Members of Turkmenistan's opposition-in-exile have already begun expressing interest in returning home, but only if Russia and other countries can guarantee their personal security.
The Gas Factor
Margelov noted that Turkmenistan holds strategic importance for Russia in three vital areas: as a partner in the Caspian and Central Asian regions; as a potential ally in policy on neighboring Iran, Afghanistan, and Uzbekistan; and as an energy trade partner and the holder of huge gas resources.
Those factors, he said, have always kept a "door open" for talks, no matter how difficult aspects of Niyazov's policy at times became for Russia.
Market-watchers and energy analysts in Moscow are busy trying to calculate how the sudden uncertainty may impact the export of Turkmenistan gas.
Turkmenistan is the second-biggest producer and exporter of natural gas in the CIS, after Russia. The vast majority of its supplies go to Russia's Gazprom monopoly in order to be re-exported to Ukraine and lucrative markets abroad.
Now, analysts worry, a sudden cutoff or price revision in Turkmen gas supplies will leave Gazprom unable to fulfill its contracts.
Sergei Pravoturov, director of the Moscow-based National Energy Institute, told Interfax that such concerns might be premature, however. "Anyone who wants to enter the struggle for power in Turkmenistan will be interested in controlling the money flow -- i.e., receiving regular payments for gas exports. Once he takes power and consolidates it, then he can think about revising contracts." That, Pravoturov suggested, would not happen anytime soon.
Economist Mikhail Delyagin, the director of the Globalization Institute, summarized concerns about Turkmen gas in a statement posted on apn.ru: "Because of Gazprom mismanagement, the European part of Russia cannot exist without Turkmen gas. Control over it is a categorical imperative for Russia's development during the next 10 years."
Ukraine And European Energy Security
Ukraine And European Energy Security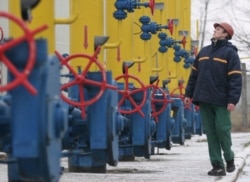 A worker inspects a gas facility outside of Kyiv (epa file photo)

MURKY CONNECTIONS. A year after the so-called gas war between Moscow and Kyiv, energy transhipments from Russia to Europe via Ukraine remain a concern. On December 1, RFE/RL's Washington office hosted a briefing featuring Tom Mayne, an energy researcher for the London-based Global Witness. Mayne discussed the lack of transparency in the energy sectors of Ukraine, Russia, and gas supplier Turkmenistan.
LISTEN
Listen to the entire briefing (about 60 minutes):

Real Audio
Windows Media
RELATED ARTICLES
Neighbors Watch As Russia Moves Toward WTO Membership
Kyiv Announces Terms Of New Russian Gas Deal
Former U.S. Ambassador Says Kyiv Can Cope With Gas Price Rise
ARCHIVE
RFE/RL's English-language coverage of
Ukraine
,
Russia
, and
Turkmenistan
.