Niyazov's death leaves a huge power vacuum in Turkmenistan and -- because of the country's vast wealth of oil and natural gas -- the actions taken to fill the presidency in Turkmenistan will be watched by many.
Turkmen State Television reported the death early today and gave details about the funeral.
"It has been decided that our great leader will be buried on Sunday, December 24," an announcer said. "Seven days of mourning have been announced [for] our great leader."
Later there was an announcement that Deputy Prime Minister and Health Minister Gurbanguly Berdymukhammedov -- who is 49 years old -- is now acting head of state. But just who selected him interim leader is unclear.
There were indications Berdymukhammedov -- who is a dentist by training -- was rapidly moving up the ranks of government when state television made this announcement today.
"In accordance with Turkmenistan's customs, a state commission has been formed to bury President Niyazov," Turkmen state television reported today. "The leadership of the commission on planning the state funeral selected Deputy Prime Minister [and] Health Minister Gurbanguly Berdymukhammedov to head the funeral planning commission."
Soviet-Era Traditions
Under Niyazov, Turkmenistan preserved many traditions from the days when it was a Soviet republic. Soviet practice usually saw the person who led the funeral preparations for a deceased leader become the leader himself following the burial.
But who will lead Turkmenistan in the longer term remains unclear. The selection of Berdymukhammedov to be the acting head of state contradicts the country's constitution, which states that the speaker of parliament should fill that role for three months and during that period arrange for a presidential election to be held.
It is unclear where current speaker of parliament, Ovezgeldy Ataev, currently is, but his name was not mentioned by state television when speaking about Niyazov's death or Niyazov's interim successor. Russian news program "Vesti" has reported that criminal charges have been filed against Ataev, though the charges were not specified.
Bringing Together The Legislators
The Halk Maslahaty (People's Council) is due to assemble on December 26 to discuss a future president. The nearly 3,000 members of the council will find themselves in unfamiliar territory when they do meet.
That is the same body that named Niyazov president for life in 1999 and met once a year to approve Niyazov's decisions. Now someone in the Halk Maslahaty will have to come up with some original ideas, something that was not encouraged under Niyazov.
It is nearly impossible to contact anyone via phone in Turkmenistan today. Efforts by RFE/RL's Turkmen Service to speak with correspondents in the country failed.
The leaders of some Turkmen opposition groups in exile are vowing to return to Turkmenistan, but there is no indication they will be any more welcome now than they were when Niyazov was alive.
Analysts Uncertain
Many analysts are predicting great turmoil in Turkmenistan in the coming days.
Niyazov regularly rotated officials so there is no one in the country who is an obvious replacement for the man the state media cultivated as semi-divine for 15 years. Truly qualified individuals in government usually found themselves in a courtroom -- then in jail -- or they fled the country to prevent such a fate.
Niyazov's policies led to a government filled with sycophants who were often corrupt. Turkmenistan's jailed are filled with former officials, among them the head of the National Security Committee, the former prosecutor-general, and many others.
Niyazov's regime saw threats in both the secular and religious opposition, and the country's security agencies worked tirelessly, and effectively, to neutralize these perceived threats.
Niyazov's isolationist policy leaves Turkmenistan with no real friends in the international community. Many governments are interested in Turkmenistan's hydrocarbon wealth, but few know anything about the Turkmen people or their needs.
(RFE/RL's Turkmen Service contributed to this report.)
Human Rights In Turkmenistan
Human Rights In Turkmenistan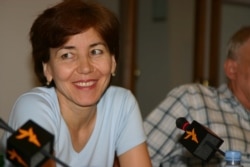 Tajigul Begmedova speaking at RFE/RL in Prague on July 21 (RFE/RL)
LIFE UNDER NIYAZOV:
On July 21, RFE/RL's Prague broadcasting center hosted a presentation by
TAJIGUL BEGMEDOVA,
chairwoman of the Bulgaria-based Turkmenistan Helsinki Foundation for Human Rights (THF). Begmedova discussed the human rights situation in Turkmenistan under President Saparmural Niyazov, focusing on the arrests in June of THF activists and RFE/RL Turkmen Service correspondent Ogulsapar Muradova. Begmedova, who graduated from the Institute of Economy in Moscow in 1987, fled Turkmenistan in 2002 and lives in exile in Sofia.
LISTEN
Listen to the complete presentation (36 minutes; presentation in Russian with consecutive translation into English):

Real Audio
Windows Media
Some RFE/RL Coverage Of Human Rights In Turkmenistan:
Media Coverage Of Leader Distracts From Real Problems
Authorities Cast Wide Net In Conspiracy Allegations
Embattled Turkmen Writer Honored Abroad
RFE/RL Correspondent Recounts Arrest
ARCHIVE
RFE/RL coverage of Turkmenistan.


THE COMPLETE STORY: Click on the icon to view a dedicated webpage bringing together all of RFE/RL's coverage of Kazakhstan, Kyrgyzstan, Tajikistan, Turkmenistan, and Uzbekistan.