Turkmen State television already announced earlier that Berdymukhammedov had been selected to lead preparations for Niyazov's state funeral.
"In accordance with Turkmenistan's customs, a state commission has been formed to bury President Niyazov," Turkmen state television reported. "The leadership of the commission on Deputy Prime Minister and Health Minister Gurbanguly Berdymukhammedov to head the funeral-planning commission."
That funeral is scheduled for December 24. Turkmenistan is also observing a seven-day period of mourning.
Known as Turkmenbashi (Leader of the Turkmen), Niyazov had ruled Turkmenistan since 1985, when it was a Soviet republic, and oversaw its transition to independence.
He ruled Turkmenistan with an iron fist, creating an elaborate personality cult around himself. In 1999, the country's legislature declared him president for life.
Niyazov had major heart surgery in 1997, and last month he acknowledged publicly for the first time that he had heart disease.
World Leaders, Activists React

World leaders have begun to react to the death today of authoritarian Turkmen leader Saparmurat Niyazov.

Turkey, which has close ethnic ties with Turkmenistan, extended its condolences. Turkish Foreign Minister Abdullah Gul said Niyazov "expended sincere efforts to take Turkmenistan out of the Soviet era."

U.S. President George W. Bush also expressed his condolences, adding that the United States is looking forward to continuing to broader relations with Turkmenistan, "to a bright future for that country, and to a government that provides justice and opportunity for its people."

Russian Foreign Minister Sergei Lavrov said he hoped a power transfer would be legal and benefit Turkmen citizens.

His German counterpart, Frank-Walter Steinmeier, said that both Russia and the EU have an interest in continued stability in Central Asia.

Meanwhile, the Paris-based press watchdog Reporters Without Borders (RSF) has said now is the time for Turkmenistan to implement changes.

"President Niyazov was responsible for numerous civil rights [abuses], and he was on our list of predators of the freedom of [the] press," said Elsa Vidal, the head of RSF's Europe desk. "Turkmenistan is the second worst place on Earth regarding press freedom. So, it [is] one of the most closed countries in the area and in the world."
RSF also called on Turkmenistan's new interim authorities to release imprisoned dissidents and journalists.
The Turkmenistan Helsinki Foundation rights group estimates there are some 4,000 political prisoners in Turkmenistan.
Opposition Plans Return
Members of Turkmenistan's opposition-in-exile are vowing to return to their homeland after the announcement of Niyazov's death.

Former Turkmen Foreign Minister Avdy Kuliev, now a leader in the Union of Democratic Forces of Turkmenistan, told RFE/RL's Turkmen Service that the group's leadership had already discussed their return in the near future.

The group said that a charter plane was available for their use in Ukraine.

Human Rights In Turkmenistan
Human Rights In Turkmenistan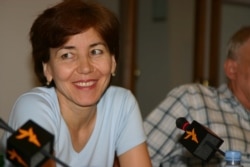 Tajigul Begmedova speaking at RFE/RL in Prague on July 21 (RFE/RL)
LIFE UNDER NIYAZOV:
On July 21, RFE/RL's Prague broadcasting center hosted a presentation by
TAJIGUL BEGMEDOVA,
chairwoman of the Bulgaria-based Turkmenistan Helsinki Foundation for Human Rights (THF). Begmedova discussed the human rights situation in Turkmenistan under President Saparmural Niyazov, focusing on the arrests in June of THF activists and RFE/RL Turkmen Service correspondent Ogulsapar Muradova. Begmedova, who graduated from the Institute of Economy in Moscow in 1987, fled Turkmenistan in 2002 and lives in exile in Sofia.
LISTEN
Listen to the complete presentation (36 minutes; presentation in Russian with consecutive translation into English):

Real Audio
Windows Media
Some RFE/RL Coverage Of Human Rights In Turkmenistan:
Media Coverage Of Leader Distracts From Real Problems
Authorities Cast Wide Net In Conspiracy Allegations
Embattled Turkmen Writer Honored Abroad
RFE/RL Correspondent Recounts Arrest
ARCHIVE
RFE/RL coverage of Turkmenistan.


THE COMPLETE STORY: Click on the icon to view a dedicated webpage bringing together all of RFE/RL's coverage of Kazakhstan, Kyrgyzstan, Tajikistan, Turkmenistan, and Uzbekistan.