State television announced Niyazov died of heart failure. He was 66.
According to the country's constitution the acting head of state is speaker of the Halk Maslahaty (People's Council) Ovesgeldy Ataev.
Constitutionally, Ataev can remain as acting head of state no longer than three months and must organize a presidential election during that time.
Also according to the constitution, Ataev cannot run for the presidency.
State television did not mention Ataev during its broadcast.
State television announced a period of mourning and the date for Niyazov's funeral.
"It has been decided that our great leader will be buried on Sunday, December 24," a reporter said. "Seven days of mourning have been announced including the seventh day after the death of our great leader."
State television reported that Health Minister Gurbanguly Berdymukhammedov is in charge of the commission preparing a state funeral for Niyazov.
Known as Turkmenbashi (Leader of the Turkmen), Niyazov had ruled Turkmenistan since 1985, when it was a Soviet republic, and oversaw its transition to independence. He ruled Turkmenistan with an iron fist, creating an elaborate personality cult around himself. In 1999, the country's legislature declared him president for life.
Niyazov had major heart surgery in 1997, and last month he acknowledged publicly for the first time that he had heart disease.
Reaction To Saparmurat Niyazov's Death
Reaction To Saparmurat Niyazov's Death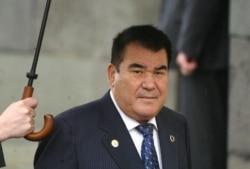 The late Turkmen President Saparmurat Niyazov (bymedia.net)


SUCCESSION WORRIES. RFE/RL's language services gathered early regional reaction to the death of long-time Turkmen President Saparmurat Niyazov.
Russian Foreign Minister Sergei Lavrov: We hope the handover of power is carried out in the framework of the law, that continuity in our relations is ensured, that the new leadership works for the good of the citizens of Turkmenistan, for the good of all those who live in the country, for the development of relations with Russia and for maintaining stability in the Central Asian region.
Russian Deputy Duma Speaker Vladimir Zhirinovsky: [Niyazov] chose the form of government that suits exactly the conditions of all those who live in Turkmenistan. There is no other way to rule Turkmenistan. He set a standard which an absolute majority, 90 percent of Turkmenistan's citizens, were content about. And he never created his own cult [of personality].
Russian Communist Party leader Gennady Zyuganov: Niyazov has done a lot for the country. Most importantly, he has been able to subordinate the interests of the gas-production industry to the needs to every Turkmen citizen. They have had access to everything at minimal prices and even for free.
Darigha Nazarbaeva, member of the Kazakh parliament and the daughter of Kazakh President Nursultan Nazarbaev: It is very unexpected, strange. It is very hard to comment now. Who will replace him? What political forces might come? With what thoughts and ideas? How would they see the future of the Turkmen nation? Everyone of us have these kinds of questions in our heads now. We shall see what is going to happen. Time will tell.
Bolat Abishev, member of the Kazakh parliament: May peace be upon him. We cannot say anything else about a person who has left us. He gave a lot of help to mothers with many children, for handicapped citizens. There were free gas, flour, and food. These and other issues have been solved, only thanks to him. And, I think now, there is a possibility for more freedom. Whoever comes after him must make changes. Before, everything depended upon him. Now, new people will come to power in this country
Former Georgian President Eduard Shevardnadze: Some say [Niyazov] was overly strict and demanding and, of course, there was cast-iron discipline in his country. Maybe some people did have some fear of him, but he brought order to the country, built such a large state, developed the capital, and that should be taken into account too. Of course, the methods used to achieve all that are also something to consider, but I personally do not believe that he was a such a dictator that he burdened his subjects with his rule.
Afghan President Hamid Karzai's chief of staff, Jawed Ludin: The president of Afghanistan is of course saddened by the news of the death of Turkmen President Niyazov. The Turkmen leader had very good relations with our president.
Moheddin Kabiri, leader of Tajikistan's Islamic Renaissance Party: [Niyazov's] death will have an impact on the political situation in Turkmenistan and also in the region. We however hope that it will not lead to political instability.