RFE/RL:
What would you like to say about the death in custody of Mrs. Muradova, the RFE/RL correspondent?
Sam Brownback:
I want to express my deep condolences to her family on her loss. This is a tragic, terrible loss of a very courageous woman. I just want to express, first, my condolences. Second, this is an extraordinary circumstance, one filled with a lot of questions that the Turkmenistan authorities must answer. What was the cause of death? This needs to have a thorough examination subject to international standards for us to be able to have a full investigation and knowledge of what happened.
Second on this, it was a bogus trial that she was tried under in the first place. A 10-minute trial after which she is sentenced to six years in prison. This needs to be condemned by the international community, of how she was treated at her trial.
If Turkmenistan is to join with the community of nations around the world, it needs to maintain human rights and an open society and move forward with the rest of the world -- instead of this repressive nature of an old Soviet-style regime.


And the third thing and a key issue here is Turkmenistan operates one of the most repressive regimes in the world. This is according to Freedom House and many others. The president of the country [Saparmurat Niyazov] operates a cult of personality, and this has got to stop. If Turkmenistan is to join with the community of nations around the world, it needs to maintain human rights and an open society and move forward with the rest of the world -- instead of this repressive nature of an old Soviet-style regime.

RFE/RL: Have you or someone from your office managed to contact the Turkmen authorities to ask about the cause of her death?

Brownback: We have contacted authorities and have still received no adequate response.

RFE/RL: Some reports suggest that the Turkmen authorities conducted an autopsy of Muradova. Do you know anything about the result?

Brownback: I do not know anything about this and, as I stated previously, it must be conducted according to international standards and oversight so that we can have some bit of assurance as to what was the actual cause of death in this case.

RFE/RL: We have been informed that currently all contact with Muradova's relatives has been blocked. They could face pressure from the government. What can be done to help them? And what are you planning to do in a situation like this?
Brownback: Clearly the Turkmen authorities need to allow the family to speak out and to speak with the family. This is just a matter of human decency. Here is a woman who has a family who has died at a relatively young age in highly questionable circumstances after a bogus trial. The Turkmen government needs, just as a matter of decency to the family, allow the family to look into this, to allow the family to have some closure on this matter. We will be pushing the Turkmen government to allow the family these modest rights as a family of a person who has passed away.
Hearing International Voices?

RFE/RL: I remember your previous press releases expressing concern about her detention and the detention of many other activists in the past. I don't know whether you received any feedback from the Turkmen government at all, but Ashgabat mostly ignores such things. How are you planning to engage the Turkmen government, while many human rights groups describe the situation on human rights in the country as getting worse and worse?

Brownback: We're going to continue to shine a light on the operation of the Turkmen government and its operation outside of international norms regarding human rights activities. And it is our hope that there will come a pressure point along the way of things that the Turkmen government is trying to get access to that we can bring some pressure to bear on them to grant these basic, modest rights, and [that] instead of declining in human rights that it will improve its human rights record and its allowance of activities by individuals.

This is a country that's going the wrong way. They have done some work in the religious-freedom area, but in many of the other areas [they] maintain a great deal of suppression and oppression. It needs to change that direction.

Tough To Pressure
RFE/RL: A few days ago the U.S. government issued a report on religious freedom and there was, of course, mention that Turkmenistan has been criticized in the reports of other organizations like Freedom House, Human Rights Watch, and Amnesty International. But pressure on human rights and civil society and freedom of speech in Turkmenistan continues. Where do you think this country is going? Why do the demands of the international community have little impact on the situation?

Brownback: I don't think that the international community has necessarily turned its back on the situation. People are concerned about it and that's why you're seeing these reports coming out and being very clear about the status and the lack of human rights in Turkmenistan. I think what happens, though, is that you have to find points in time when you can bring legitimate pressure to bear, and those usually come when the Turkmen themselves, the government, is looking for some support, some access to the international community. And those are the points in time when we really have more ability then to press these issues. The Turkmen government should do it anyway. It would be for the betterment of the future of their nation if they would do this. But they haven't and we need to keep the reports coming, the information out, the pressure on and look for a zone of time when we can really put some pressure on that might yield some more clear results.
Human Rights In Turkmenistan
Human Rights In Turkmenistan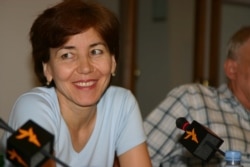 Tajigul Begmedova speaking at RFE/RL in Prague on July 21 (RFE/RL)
LIFE UNDER NIYAZOV:
On July 21, RFE/RL's Prague broadcasting center hosted a presentation by
TAJIGUL BEGMEDOVA,
chairwoman of the Bulgaria-based Turkmenistan Helsinki Foundation for Human Rights (THF). Begmedova discussed the human rights situation in Turkmenistan under President Saparmural Niyazov, focusing on the arrests in June of THF activists and RFE/RL Turkmen Service correspondent Ogulsapar Muradova. Begmedova, who graduated from the Institute of Economy in Moscow in 1987, fled Turkmenistan in 2002 and lives in exile in Sofia.
LISTEN
Listen to the complete presentation (36 minutes; presentation in Russian with consecutive translation into English):

Real Audio
Windows Media
Some RFE/RL Coverage Of Human Rights In Turkmenistan:
Media Coverage Of Leader Distracts From Real Problems
Authorities Cast Wide Net In Conspiracy Allegations
Embattled Turkmen Writer Honored Abroad
RFE/RL Correspondent Recounts Arrest
ARCHIVE
RFE/RL coverage of Turkmenistan.


THE COMPLETE STORY: Click on the icon to view a dedicated webpage bringing together all of RFE/RL's coverage of Kazakhstan, Kyrgyzstan, Tajikistan, Turkmenistan, and Uzbekistan.