In a statement posted on the organization's website, the OSCE's representative on freedom of the media, Miklos Haraszti, condemned the lack of transparency in the handling of the cases of Annakurban Amanklychev, Sapardurdy Khajiev, and RFE/RL Turkmen Service correspondent Ogulsapar Muradova.
The three were sentenced on August 25 to up to seven years in jail each on charges of illegally possessing ammunition.
No independent observers were allowed to attend the proceedings, which lasted just a few minutes.
Talking to RFE/RL's Turkmen Service today, Haraszti said he was particularly concerned by the fact that the defendants were reportedly held incommunicado before and during the trial.

"It is worrying that observers were not allowed to visit [the defendants], not even family members," he said. "That leaves open the question, for public opinions both in Turkmenistan and outside, [of] what did actually happen, what actually [were] the charges, and whether due defense was provided to them. These questions can be clarified only by [observing] the principles of a fair and open trial and access to the defendants by public questioners, families, and defense lawyers."
The Paris-based Reporters Without Borders (RSF) and the New York-based Committee to Protect Journalists (CPJ) both expressed outrage at the sentences.
France today called upon Turkmen authorities to respect their commitments with regard to human rights and press freedom. It said it would consult with other European Union countries on what "further steps" to take.

RFE/RL's acting president, Jeff Trimble, has condemned the trial as "a mockery of justice."
Human Rights In Turkmenistan
Human Rights In Turkmenistan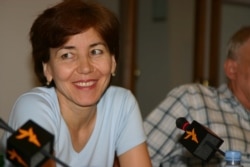 Tajigul Begmedova speaking at RFE/RL in Prague on July 21 (RFE/RL)
LIFE UNDER NIYAZOV:
On July 21, RFE/RL's Prague broadcasting center hosted a presentation by
TAJIGUL BEGMEDOVA,
chairwoman of the Bulgaria-based Turkmenistan Helsinki Foundation for Human Rights (THF). Begmedova discussed the human rights situation in Turkmenistan under President Saparmural Niyazov, focusing on the arrests in June of THF activists and RFE/RL Turkmen Service correspondent Ogulsapar Muradova. Begmedova, who graduated from the Institute of Economy in Moscow in 1987, fled Turkmenistan in 2002 and lives in exile in Sofia.
LISTEN
Listen to the complete presentation (36 minutes; presentation in Russian with consecutive translation into English):

Real Audio
Windows Media
Some RFE/RL Coverage Of Human Rights In Turkmenistan:
Media Coverage Of Leader Distracts From Real Problems
Authorities Cast Wide Net In Conspiracy Allegations
Embattled Turkmen Writer Honored Abroad
RFE/RL Correspondent Recounts Arrest
ARCHIVE
RFE/RL coverage of Turkmenistan.


THE COMPLETE STORY: Click on the icon to view a dedicated webpage bringing together all of RFE/RL's coverage of Kazakhstan, Kyrgyzstan, Tajikistan, Turkmenistan, and Uzbekistan.