During his
visit to Ashgabat
earlier this month, German Foreign Minister Frank-Walter Steinmeier was asked by Turkmen President Saparmurat Niyazov if Germany, along with Russia, would be interested in participating in the construction of a new natural-gas pipeline to Europe.
Turkmenistan, Niyazov told his guest, had discovered a super-giant gas field, South Iolotansk, that he claimed has proven reserves of 7 trillion cubic meters of gas, twice that of Russia's Shtokman field.
Steinmeier was cautious in his response to Niyazov's offer, saying Germany is always interested in obtaining secure gas supplies.
Pipe Dream
If Niyazov's dream were to be fully realized, his country would add to its export capabilities to the tune of 40 billion cubic meters per year.
The trans-Caspian route would also serve as an alternative (or complementary) route to the proposed Nabucco pipeline, which is supported by the United States and the EU and opposed by Russia.
Despite the Turkmen president's enthusiasm for the project, Gazprom executives were cautious. "Kommersant" reported on November 7 that Gazprom Deputy Chairman Aleksandr Ryazanov admitted that the Russian gas giant's leadership was already aware of the proposal, but it would take until the end of the year to study it.
Ryazanov told "Kommersant" that the Iolotansk field would require additional investment due to the high sulfur content of its gas, and that Gazprom had some doubts about the size of the field's reserves.
Ryazanov's skeptical attitude can be traced to previous exaggerated claims by the Turkmen leadership about the size of its gas reserves and its reluctance to release the results of an audit of these reserves conducted by Western experts.
Most Western energy-monitoring organizations agree with the June 2006 BP "Statistical Review of World Energy," which estimates that Turkmenistan has 2.9 trillion cubic meters of gas reserves. If the Iolotansk field does, in fact, contain 7 trillion cubic meters, this would have a dramatic impact on the energy map of Central Asia, Europe, and Russia.
Altered Playing Field
The European Union, for one, would be more than pleased to receive substantial quantities of Turkmen gas via a pipeline that avoids Russian territory.
And Russia, according to one scenario prepared by Gazprom's Research Institute for the Economics of the Gas Industry (NIIGazekonomika), might be amenable to such an arrangement in order to buy time for Gazprom to develop new fields to supplement its rapidly depleting reserves.
Another factor is the controversy surrounding the Nord Stream pipeline meant to transport gas under the Baltic Sea to Germany. Nord Stream was designed to become operational in 2010 with an initial transport capacity of some 27.5 billion cubic meters per year. In the second phase, a parallel pipeline is to increase its capacity to about 55 billion cubic meters.
During the initial phase, the plan was for Nord Stream to be filled with gas from Russia's Yamal Peninsula, but the main supply source would eventually become the gigantic Shtokman field in the Barents Sea.
However, following Gazprom's announcement that it would develop the Shtokman field without the participation of Western companies, some experts have expressed skepticism that Gazprom is prepared to take on such a complex project by itself.
To make matters worse, unofficial reports that Sweden might be unwilling to allow the Nord Stream pipeline to be built in its economic zone could pose another potential roadblock to Western participation in developing Shtokman.
Fool's Gold?
There is always the possibility that Niyazov is exaggerating his country's gas reserves and manipulating Russian and EU expectations of his country's ability to supply gas as a means of remaining in power.
But if the Iolotansk field does indeed contain anywhere near 7 trillion cubic meters of gas -- high sulfur content or not -- Gazprom would likely be constrained to drop its reservations and help make the Turkmen president's pipeline vision a reality. Such a move could further serve to threaten the ambitious, but divisive, Nord Stream project.
Russia's main concern would be to ensure it can fulfill its European contracts. With the Central Asian "Center" pipeline, the traditional route for Turkmen gas to Russia, running at nearly full capacity, Gazprom might find that getting in on Niyazov's project would be the best means of ensuring supplies.
How Much Do The Neighbors Pay?
How Much Do The Neighbors Pay?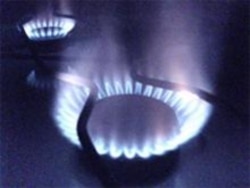 SETTING THE RATES: With Gazprom negotiating new contracts, many states will be paying more for Russian natural gas in 2007.
Belarus, following tense negotiations with Gazprom, will pay $100 per 1,000 cubic meters in -- up from $47 in 2006. Ukraine, which depends on Russia to supply it with about 77 percent of its gas, will pay $130 per 1,000 cubic meters of a Turkmen-Russian gas mix. Moldova, which depends on Russia for 100 percent of its gas, will pay $170 per 1,000 cubic meters, with the price rising to European-level market price by 2011. Georgia has agreed to pay Gazprom $235 per 1,000 cubic meters of gas.
ARCHIVE
A
complete archive
of RFE/RL's coverage of energy issues in the Caspian Sea region and Russia.