The deal more than doubles the amount Belarus will pay for Russian natural gas in 2007, and will raise it to European levels by 2011.
Gazprom had threatened to cut supplies to Belarus from today if a deal was not reached. Minsk had promised to retaliate by interrupting Russian gas crossing the country on its way to Western Europe. Both nations accused each other of blackmail over the dispute, which revived memories of a similar dispute with Ukraine exactly one year ago.
Under the deal, Gazprom will gain a 50-percent stake in Belarus's state-owned gas-transport monopoly, Beltranshaz.
A Bitter Pill
The new price is $100 per 1,000 cubic meters, a substantial increase from the $46 per 1,000 cubic meters that Belarus had been paying. Gazprom had been pushing for a price of $105.
"We signed an agreement for the supply of Russian gas to Belarus and for the conditions of the transit of Russian gas through the Republic of Belarus," said Gazprom's chief executive officer, Aleksei Miller, announcing the deal in Moscow.
Failure to reach a deal might have left Belarus and its 10 million people without winter supplies of its major energy source and could have led to possible disruptions of gas supplies to the European Union.
Belarusian Prime Minister Syarhey Sidorski, speaking at a joint press conference in Moscow alongside Miller, said Belarus had made painful concessions to Gazprom.
Belarus buys close to 21 billion cubic meters every year -- meaning its gas bill this year is set to rise from $1 billion to $2.1 billion.
Sidorski said higher gas prices will be a heavy burden for ordinary Belarusians.
"As you know, 60 percent of the Belarusian people are victims of Chornobyl [nuclear disaster]. So, we have to go to these victims of Chornobyl, we have to go to the elderly and explain to them that the price for gas has been raised twice more than we expected," Sidorski said. "You know that we had been negotiating a price of between $57 and $75 [per cubic meter], and we were ready to accept this. We had been discussing this price the whole year. But then we were told, 'No.' So, out of respect for our partner, for our relationship [with Russia], and for our European partners, we're agreeing to this price [of $100 per cubic meter]."
Gazprom says the price increase for Belarus is part of the firm's campaign to bring the amounts Russia's neighbors pay for gas into line with world prices.
The Russian gas giant says it will continue to raise Belarus's rates steadily over the next five years to European levels, which are currently more than $250 per 1,000 cubic meters.
Belarusian President Alyaksandr Lukashenka, commenting on the deal, said his country now faces a "new economic reality."
But Still A Bargain
Minsk, for now, is still paying less than other Gazprom customers, however.
Ukraine will pay $135 per 1,000 cubic meters this year. Georgia will pay $235. Gazprom also agreed on price hikes with Armenia and Moldova.
But Belarus is losing more than its affordable gas rates. According to the deal, Gazprom will also gain a 50-percent stake in Belarus's state-owned gas-transport monopoly, Beltranshaz.
Gazprom has long sought to gain control of Beltranshaz as it consolidates its monopoly of transit routes. Lukashenka had vowed never to give shares of the gas-transit network to Russia, but evidently was forced into the deal as a way of staving off even higher gas prices.
Under the deal, Gazprom will pay $2.5 billion over the next four years to gain the 50-percent stake.
Beltranshaz controls Belarus's local pipelines. Gazprom already owns all of Belarus's transit pipelines, and uses them to ship about 20 percent of its European gas exports. The remaining 80 percent goes via Ukraine.
Western critics accuse the Kremlin of using the gas price increases as a political weapon to punish some of its neighbors, such as Georgia, for moving closer to the West.
Belarus, though, does not appear to fit into this category. Lukashenka has abysmal relations with the West, which accuses him of authoritarian rule and of abusing human rights. Minsk also seeks closer ties with Moscow.
The gas row revived memories of a similar dispute with Ukraine exactly one year ago, which briefly disrupted Russian deliveries to Europe and shook confidence in Russia's reliability as an energy supplier.
RFE/RL Briefings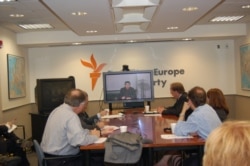 BEYOND THE HEADLINES. RFE/RL regularly hosts briefings and discussions with leading experts on our broadcast region. In 2006, some of the crucials topics were gas wars, elections in Belarus and Ukraine, Iran's nuclear program, and unrest in Central Asia....(more)
SUBSCRIBE
To receive RFE/RL briefing invitations and reports by electronic mail, send a message to
dc-response@rferl.org
with "Subscribe" in the subject line.