Gazprom's chief spokesman Sergei Kupriyanov told Russia's "Vesti 24" television that the company was ready for a "critical development."
Gazprom is threatening to halt gas supplies to Belarus on January 1 if Minsk does not agree to pay more for gas shipments.
Gazprom wants Belarus to pay $105 per 1,000 cubic meters, up from $46 now, and is seeking a deal that would include shares in Belarus's pipeline operator, Beltranshaz.
Belarus is offering to pay $75 per 1,000 cubic meters of gas, while maintaining that any shares in Beltranshaz would have to be purchased separately.
Talks faltered on December 29 with Belarusian President Alyaksandr Lukashenka, speaking from Minsk, accusing Gazprom of "blackmail."
Meanwhile, Belarus's state oil company Belneftekhim has announced it is
suspending its 2007 contracts
with Russian oil companies.
Company Chairman Alyaksandr Borovsky told Belarus's official Belta news agency that the suspension is due to Russia's plans to impose new duties on oil exported to Belarus.
(AFP, Reuters)
How Much Do The Neighbors Pay?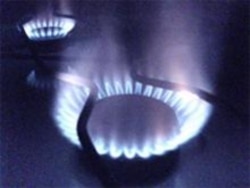 SETTING THE RATES: With Gazprom negotiating new contracts, many states will be paying more for Russian natural gas in 2007.
Belarus, following tense negotiations with Gazprom, will pay $100 per 1,000 cubic meters in -- up from $47 in 2006. Ukraine, which depends on Russia to supply it with about 77 percent of its gas, will pay $130 per 1,000 cubic meters of a Turkmen-Russian gas mix. Moldova, which depends on Russia for 100 percent of its gas, will pay $170 per 1,000 cubic meters, with the price rising to European-level market price by 2011. Georgia has agreed to pay Gazprom $235 per 1,000 cubic meters of gas.
ARCHIVE
A
complete archive
of RFE/RL's coverage of energy issues in the Caspian Sea region and Russia.