The gas giant is threatening to cut gas supplies to Belarus on January 1 if Minsk doesn't meet a new rate of $105 per 1,000 cubic meters of gas -- more than twice what Belarus currently pays.
A delegation from Belarus was due to hold last-minute negotiations on the gas dispute in Moscow today.
(Reuters)
Russia And Belarus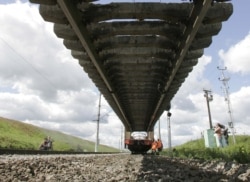 The main Moscow-Minsk railway line(Tass)

TO MERGE OR NOT TO MERGE: For over a decade, Moscow and Minsk have been working on a project to form a single state, the Russia-Belarus Union. However, every time the two countries seem on the verge of making progress, one or the other steps back, leaving the entire effort in doubt.
RELATED ARTICLES
Putin, Lukashenka Press Ahead With Unification
Has Putin Promised Lukashenka Fair Weather?
Tensions Remain In Putin-Lukashenka Talks
ARCHIVE
RFE/RL's
coverage of Belarus
. RFE/RL's
coverage of Russia
.