PRAGUE, November 24, 2006 (RFE/RL) -- Belarus's president made some surprising announcements on November 23 as Minsk prepares to host a summit of the Commonwealth of Independent States (CIS).
Meeting in the Belarusian capital with a group of Ukrainian journalists, President Lukashenka informed them that Ukrainian President Viktor Yushchenko had "announced" that he will not be coming to the CIS summit on November 28, proposed the formation of a Ukrainian-Belarusian state, and even admitted to rigging Belarus's last presidential election.
News To Ukraine
The news that the Ukrainian president would not be coming to the summit came as quite a shock to the journalists, as neither Yushchenko or any of his aides had issued such a statement.
Later in the day, Vitaliy Hayduk, secretary of Ukraine's National Security and Defense Council, refuted Lukashenka's comments by saying Yushchenko was, in fact, planning to visit Minsk.
Apparently out of concern that Yushchenko would not be meeting with Lukashenka, the Belarusian president had touted the potential success of such talks.
"If only Belarus and Ukraine could reach an agreement, the configuration of economic and political relations in the region would completely change," Lukashenka said.
"What if we pursued a single policy in talks with Russia on this matter? Would it be worse? It would be better. So let's do it." -- Lukashenka on a Belarus-Ukraine union state
Asked by the Ukrainian journalists to clarify what he had in mind, Lukashenka said Minsk and Kyiv could work out a joint stance on "oil and gas issues," including a coordinated policy on tariffs for Russian gas transit to Europe. "What if we pursued a single policy in talks with Russia on this matter?" Lukashenka said. "Would it be worse? It would be better. So let's do it."
Lukashenka did not conceal his concern over Moscow's declared intention to increase the price it charges for natural-gas exports to Belarus in 2007. Belarus could find itself paying as much as $200 per 1,000 cubic meters compared to the current rate of $47. By insisting on the price hike, Gazprom has made clear that it wants Lukashenka to give up control over Beltranshaz, Belarus's gas pipeline operator.
Ukraine-Belarus State
After complaining to the Ukrainian journalists about the expected price increase and about what he sees as Moscow's intention to put Belarusian economic entities in a disadvantageous position compared to Russian businesses, Lukashenka admitted that he would welcome the idea of forming a union state with Ukraine.
He went so far as to suggest that, because of the "comparable" sizes of the two states, such a union might even be more feasible than one with Russia.
According to the Belarusian president, such a political formation could face a bright future.
"Pray God it happens some time. Believe me, everybody would have to take this [Belarusian-Ukrainian] state into consideration," Lukashenka said. "We would bargain a great deal from the world for our peoples."
Vintsuk Vyachorka, leader of the Belarusian Popular Front, told RFE/RL's Belarus Service that, in making such comments, Lukashenka is beginning to promote an idea first proposed by the Belarusian opposition 15 years ago. At that time, Vyachorka noted, the opposition sought to seek closer ties and, if possible, a union with Ukraine and the Baltic states in order to counter Russia's political and economic clout.
According to Vyachorka, such a move on the part of Lukashenka testifies to the desperation of the Belarusian president in the face of Russia's economic pressure.
"I think that today Mr. Lukashenka has no response to this challenge, to this deadlock into which he himself has brought our country," he said.
Blackmail Attempt?
Another prominent opposition activist, United Civic Party deputy head Alyaksandr Dabravolski, agrees with Vyachorka. But Dabravolski does not believe that Lukashenka is serious in speaking about a union with Ukraine. According to Dabravolski, Lukashenka is merely trying to blackmail Moscow.
"Now, when Russia wants to obtain actual money for its energy resources, it has become apparent to everybody that there is nothing behind the [Belarus-Russia] union state," Dabravolski said. "There is neither foundations nor a roof. All opposition forces have warned that it is necessary to talk with Russia about cooperation while taking into account real [national] interests. Now, as usual, Lukashenka will try using blackmail or persuasion."
"Yes, we falsified the last election. I have already told the Westerners [about this]. As many as 93.5 percent of voters voted for President Lukashenka. But they said this was not a 'European' result. So we made it 86."
Will Lukashenka broach the union idea to Yushchenko if the Ukrainian president does, in fact, come to Minsk next week? Such a scenario cannot be ruled out.
It is quite reasonable to assume that if the two were to meet in the future, the issue of Russian gas supplies to, and Russian gas transit across, Belarus and Ukraine might come up. Both countries now seem to have similar problems in ensuring their energy security.
In other respects, however, any potential understanding between Lukashenka and Yushchenko is unlikely.
In March, Ukraine held parliamentary elections that were praised in Europe as almost exemplarily fair and democratic.
The same month, Lukashenka was reelected for his third-straight term in a ballot that was internationally decried as deeply flawed and fraudulent.
Admission Of Fraud
Lukashenka on November 23 acknowledged that he rigged the March presidential election. But he claimed to have stolen the vote from himself, not from the opposition.
"Yes, we falsified the last election. I have already told the Westerners [about this]. As many as 93.5 percent of voters voted for President Lukashenka. But they said this was not a 'European' result. So we made it 86 [percent]. That is true," Lukashenka said. "If we were to start recounting ballots now, I don't know what we would do with them. The Europeans told us before the election that if there were 'European' figures in the election, they would recognize our election. And we tried to make European figures."
If Lukashenka, in fact, went to such lengths to be recognized by Europe to no avail, then it is easy to understand why Lukashenka is becoming increasingly bitter toward Europe, in particular, and the West in general.
But it would be unrealistic for Lukashenka to expect sympathy, either publicly or privately, from a Ukrainian counterpart enjoying the positive international response to the Orange Revolution and successful parliamentary elections.
How Much Do The Neighbors Pay?
How Much Do The Neighbors Pay?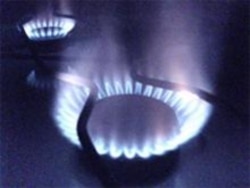 SETTING THE RATES: With Gazprom negotiating new contracts, many states will be paying more for Russian natural gas in 2007.
Belarus, following tense negotiations with Gazprom, will pay $100 per 1,000 cubic meters in -- up from $47 in 2006. Ukraine, which depends on Russia to supply it with about 77 percent of its gas, will pay $130 per 1,000 cubic meters of a Turkmen-Russian gas mix. Moldova, which depends on Russia for 100 percent of its gas, will pay $170 per 1,000 cubic meters, with the price rising to European-level market price by 2011. Georgia has agreed to pay Gazprom $235 per 1,000 cubic meters of gas.
ARCHIVE
A
complete archive
of RFE/RL's coverage of energy issues in the Caspian Sea region and Russia.