Lukashenka made the comments yesterday in Minsk.
Belarus and Ukraine together hold nearly all the pipelines that take Russian gas to western European customers. Both countries are faced with demands by Russia's Gazprom monopoly for steep increases for gas supplies.
Lukashenka, speaking to a group of Ukrainian reporters today, suggested energy cooperation should focus on gas transit and said the two countries had "more trump cards."
He also said Belarus could respond to higher Russian gas prices by charging Russia for cargo transit and the use of military facilities.
Lukashenka, condemned in the West for his authoritarian regime, is an unlikely partner for pro-Western Ukrainian President Viktor Yushchenko.
(Reuters, AP)
Prague Energy Forum, October 23-24
Prague Energy Forum, October 23-24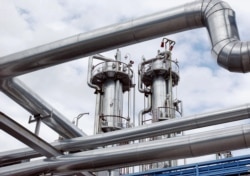 An oil refinery in Western Siberia (TASS)

STABILITY AND SECURITY: On October 23-24, RFE/RL and the Warsaw-based Economic forum cosponsored the Prague Energy Forum at RFE/RL's Prague broadcasting center. The Energy Forum brought together nearly 100 experts and policymakers from Europe, Central Asia, and the Middle East to discuss key issues of energy supply and security in the years to come.
HIGHLIGHTS: RFE/RL presents some of the key presentations from the Energy Forum and interviews with some participants:
Czech Premier Urges Reduced Energy Dependence On Russia
Interview: Nature A Bigger Threat To Security Than Terrorism
Russia Can Boost Security Through Transparency
Interview: Russian Expert Addresses Europe's Security Concerns
U.S. Official Outlines Concerns About Iran's Nuclear Program
Iranian, Western Experts Spar Over Tehran's Nuclear Ambitions
Experts Ponder Future 'Gas Wars'
Former U.S. Ambassador Says Kyiv Can Cope With Gas Price Rise
Interview: Tbilisi Bent On Energy Independence


MORE: Click on the image to see the conference program, participant list, and other materials.