But the isolated autocrat, facing uncertainty over Russian gas supplies, appears to be launching another kind of campaign as well. Lukashenka has recently made several political gestures that may signal his intention to repair his wobbly standing in the international arena.
No 'Window-Dressing Liberalism'
When the court sentenced opposition Youth Front leader Zmitser Dashkevich to 18 months in prison on November 1, it cited an article added to the Belarusian Criminal Code just ahead of the March presidential election.
"The regime has sent yet another strong signal that no unregistered organization has the right to conduct activities here."
The article, prohibiting the work of "unregistered organizations," was among a set of amendments introducing harsh penalties for "activities directed against people and public security."
Vintsuk Vyachorka, head of the opposition Belarusian Popular Front, said the sentencing of the 25-year-old Dashkevich was routine for a regime that shuns any notion of democratizing the country's political environment.
Dashkevich's case "was chosen as an example to caution others," he said. "There is nothing unexpected in this [sentence], even though it would appear that, confronted with the economic problems that will inevitably worsen next year, Lukashenka could show at least window-dressing liberalism. But he decided not to do that, he decided to continue fighting against the Belarusian people. It is a challenge for all of us."
The Lukashenka regime's repression of its political opponents culminated shortly after this year's March 19 presidential election.
Rights activists say more than 1,000 supporters of the contest's two independent opposition candidates, Alyaksandr Milinkevich and Alyaksandr Kazulin, were jailed for up to 15 days.
Harsher Penalties
Fewer prison sentences have been handed down in the seven months that followed, but in cases like Dashkevich's, where penalties were handed down, they were far harsher than before.
In July, Kazulin was sentenced to 5 1/2 years in prison for his role in the street protests that followed Lukashenka's overwhelming reelection in the presidential vote.
In August, a court sentenced four independent election observers -- Mikalay Astreyka, Tsimafey Dranchuk, Enira Branitskaya, and Alyaksandr Shalayka -- to prison terms ranging from six months to two years.
The four were found guilty of being involved in an unregistered organization that "infringes upon the interests and rights of citizens."
Anatol Lyaukovich, temporarily standing in for Kazulin as head of the Belarusian Social Democratic Party, says he believes the government will continue to stifle any uncontrolled public activity in order to prevent a rise in public dissent.
Repression, he says, has simply become a way of life for the Lukashenka regime. "The regime has sent yet another strong signal that no unregistered organization has the right to conduct activities here," he says. "It is a warning to both old and young [opposition] leaders that all of them will be there [in prison]. It is the natural logic of a [repressive] regime, which can only become tougher. If it shows a sign of weakness, it will collapse."
Signs Of A Thaw?
But in addition to the usual sticks, Lukashenka has also recently offered a few carrots. Earlier this year, Lukashenka signed a decree making it easier for independent trade unions to register. And in October, a high-ranking Belarusian delegation traveled to Geneva to meet with the International Labor Organization for talks on the observation of union rights in Belarus.
Both were surprisingly progressive moves -- and ones that may have been prompted by the plan in Brussels to suspend trade benefits to Belarus under the European Union's Generalized System of Preferences for developing countries.
Minsk has sent other signals of its intention to improve relations with Europe as well. Uladzimir Kanaplyou, speaker of Belarus's lower house of parliament, the Chamber of Representatives, recently held talks in Moscow with Rene van der Linden, head of the Parliamentary Assembly of the Council of Europe (PACE). Belarus is the only European country that is not represented in PACE.
And Lukashenka, while meeting a parliamentary delegation of the Republic of South Africa in Minsk, declared that Belarus is "essentially building a new foreign policy."
Some Belarusian analysts assert that Lukashenka's words may be more than just another empty declaration. They argue that Minsk, anticipating a future of higher prices for Russian gas and cooler relations with Moscow, may be trying to patch up its poor reputation in the West.
No Halt To Persecution
So should Lukashenka be taken at his word? Does his promise of a "new foreign policy" mean a thaw in the Belarusian regime?
Opposition leader Milinkevich, who unsuccessfully challenged Lukashenka in the March presidential vote, says no. He says Dashkevich's prison sentence is convincing proof that Europe should not harbor any illusions about whether Lukashenka may democratize his rule.
"This verdict is not only unjust but that it is also a verdict against all of Belarusian youth," he says. It is another signal to Europe -- a Europe which thinks: 'What if suddenly [Lukashenka changes]? Maybe it's necessary to cooperate with this regime. Maybe it's necessary to leave the door ajar.' But this regime doesn't give a damn about all these proposals and it won't make a single step to meet them halfway. There is no sense in meetings or cooperation with this regime unless it demonstrates at least one single time that it has halted political persecution."
During Dashkevich's trial, some 200 young people gathered outside the court building in a show of solidarity. But human rights defender Lyudmila Hraznova says opposition supporters are too scarce to have any effect on the ruling regime.
"Of course, this support is insufficient and local. It is known only to us, while for the remainder of Belarusian society it is a closed book," she says. "People don't know what's taking place in the country, people don't know how many political prisoners have been put behind bars."
'Getting Used To Prison'
Is the opposition in Belarus doomed to disappear altogether, as Lukashenka predicted before the presidential vote in March, or transform into increasingly isolated and desperate groups of dissenters?
Alyaksey Shydlouski, who spent 18 months in prison in 1997-98 for writing antipresidential graffiti, believes that opposition activists have to persevere with their efforts, even if it invariably leads them to prison.
"Nine years ago, I myself was in the same situation [as Dashkevich]," he says. "One needs to hold one's ground and be strong, because prison is prison, it has its own laws, and one simply needs to get used to this prison system and serve one's own term as if nothing has happened."
At present, it appears, the Belarusian opposition cannot do much more than accept Shydlouski's stoical advice.
(RFE/RL's Belarus Service has contributed to this report.)
Russia And Belarus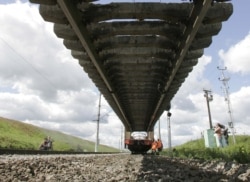 The main Moscow-Minsk railway line(Tass)

TO MERGE OR NOT TO MERGE: For over a decade, Moscow and Minsk have been working on a project to form a single state, the Russia-Belarus Union. However, every time the two countries seem on the verge of making progress, one or the other steps back, leaving the entire effort in doubt.
RELATED ARTICLES
Putin, Lukashenka Press Ahead With Unification
Has Putin Promised Lukashenka Fair Weather?
Tensions Remain In Putin-Lukashenka Talks
ARCHIVE
RFE/RL's
coverage of Belarus
. RFE/RL's
coverage of Russia
.