But they are not on a pleasure trip -- they came as part of a group of Belarusian students who were offered the opportunity to study in Prague for a month after facing political pressure at home.
Student Opposition
Such offers came from throughout Western Europe after students like Pyarvoykina and Shelehau ran afoul of the authorities. Many experienced difficulties after participating in opposition demonstrations during and after Belarus's presidential election in March.
Hundreds of peaceful demonstrators were beaten and arrested on the main Minsk square just after the election, and were subjected to 15-day detentions.
Twenty-one-year-old Pyarvoykina's disillusionment with life under the rule of President Alyaksandr Lukashenka led her to become involved in politics a few years ago.
Her activism eventually led her to the ranks of young supporters of opposition candidate Alyaksandr Milinkevich.
Iryna says she was detained by Interior Ministry troops for several days after participating in opposition demonstrations ahead of the election.
"We were arrested by OMON [special police forces] and it was done in a very rough manner," Pyarvoykina said. "In the beginning I was taken to the hospital and then to the place of my detention. It is not easy to tell you how they have treated us because I do not want to recall it, it was so unpleasant."
Peer Pressure
Pyarvoykina says that despite being beaten, her time spent in detention with other activists was bearable. The worst, she says, came after her release.
Upon resuming her studies of psychology at Minsk State University, Pyarvoykina says the sneers she received from fellow students and teachers hurt more than the physical pain she endured in detention.
After leaving Prague for her one-month course, Pyarvoykina plans to head to Vienna to study there.
She blames the authorities for her situation.
"[I have a feeling] of being hurt by the way this man [Lukashenka] represents us abroad," Pyarvoykina said. "I have big plans for my life. Probably like all young people do. I want to achieve a lot of things. Currently, I feel ashamed for this man who represents my country."
Shelehau, 23, recently completed his studies in Belarus. He, too, is active in politics. He serves as vice chairman of the youth organization Veras (Heather) in the eastern city of Vitsebsk. The organization spreads information about European issues and organizes public events such as the "Days of Europe."
He says that although he has never been subjected to physical pressure, the Belarusian authorities keep a close eye on Veras because of its influence on society.
Official Pressure
The harassment takes different forms, he says. Local bureaucrats invite him for "discussions" almost every day. And every idea the organization puts forward is meticulously discussed, every initiative requires approval, and permission is required for even the slightest public action. Shelehau says local authorities on many occasions have advised him "to be more loyal."
However, Shelehau and Pyarvoykina both exhibit obvious affection for their motherland.
Shelehau names off numerous advantages that young people enjoy in Belarus -- discos, nightclubs, Internet cafes, and gyms. The older generation, he says, benefits from steady employment, fair salaries, and regularly paid pensions.
"In fact everything is allowed except politics," Shelehau said. "In fact, with politics all the problems begin. If you ignore this sphere, you find that many things in Belarus are developing in a rather stable way, and we in principle do not feel that we are living in a kind of some kind of stone age."
Devotion To The Motherland
For her part, Pyarvoykina plans to return to Belarus after the completion of her studies in Vienna.
"In any case, I plan to return to Belarus. I do not know when it will happen. Maybe I will study longer than I plan [in Austria] but I will work for my country," Pyarvoykina said. "I will bring better life to it, bring something new to it."
Their hearts, it is clear, lie firmly in Belarus. And despite the hurdles they might face in working toward developing democracy there -- that is where they see their future.
Assessing The Election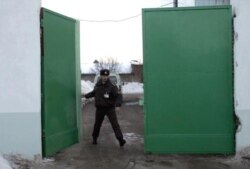 A police officer closes the gate on a Minsk detention center after demonstrators were brought there on March 24, 2006 (RFE/RL)
LOOKING BACK: On March 21, 2006, RFE/RL's Washington office hosted a briefing on the March 19 presidential election in Belarus and its unfolding aftermath. The roundtable discussion featured CELESTE WALLANDER, director and senior fellow at the Russia and Eurasia Program of the Center for Strategic and International Studies; "The New York Times" Moscow correspondent STEVEN LEE MYERS; and RFE/RL Belarus Service Director ALEXANDER LUKASHUK (the latter two speaking via telephone from Minsk).
The roundtable discussion focused on the actions of the administration of President Alyaksandr Lukashenka during the campaign and the election and on what the world can expect from Lukashenka's third term in office.
Listen to the entire briefing (about 60 minutes):
Real Audio Windows Media


THE COMPLETE PICTURE: Click on the image to view a dedicated page with news, analysis, and background information about the Belarusian presidential ballot.