The clashes took place near Minsk's musical comedy theater as dozens of opposition supporters were heading toward the Akrestsyna detention center.
Riot police blocked the road leading to Akrestsyna, and beat their shields with truncheons while they advanced on the crowd.
Some Causalties Reported
An RFE/RL Belarus Service correspondent reports he heard several explosions of undetermined origin as police was charging. He says he saw people lying on the ground.
Television footage broadcast on Georgia's Imedi TV shows men carrying a form lying on a stretcher.
A man told RFE/RL's Belarus Service that police were using indiscriminate violence. "They're kicking women," one witness said. "This is outrageous. They're real fascists!"
Police Accuse Demonstrators Of Starting The Violence
In remarks carried by the official Belta news agency, Interior Minister Uladzimir Navumau said demonstrators attacked police forces first, "throwing bottles and other objects." He also denied responsibility for the explosions, saying they wounded one civilian and eight security officers.
Opposition leader Alyaksandr Kazulin, who was leading the march, was detained.
Navumau accused Kazulin of calling upon demonstrators to seize state buildings and overthrow Belarus's government.
In comments made to RFE/RL's Belarus Service, the wife of another opposition leader, Alyaksandr Milinkevich, denied reports that her husband, too, was detained.
Milinkevich's spokesman Pavel Mazhejka was briefly detained.
Earlier Demonstration Ended Peacefully
Earlier, both Milinkevich and Kazulin were addressing a crowd of several thousand on Yanka Kupala Square to demand that the outcome of the March 19 presidential polls be annulled.
Election officials say incumbent President Alyaksandr Lukashenka won a landslide win with nearly 83 percent of the votes. Milinkevich came second with 6 percent and Kazulin came last with 2.2 percent. The opposition, however, says the vote was rigged.
Milinkevich told supporters today a new vote should be held "without Lukashenka."
He vowed that the Belarusian president-elect -- who is due to be inaugurated for his new five-year term on March 31 -- would be gone by the end of the term. He also announced the creation of what he described as a "national movement for the liberation of Belarus."
'Shame On Them!'
"They have been hiding in their offices and they think they won the elections," Milinkevich said. "But this is a Pyrrhic victory. This is the beginning of the end of those who lie, who cannot talk to people, who use force against people and beat them. Shame on them!
Addressing foreign reporters earlier today near the Akrestsyna detention center, Milinkevich had called upon authorities to refrain from violence, vowing in turn to hold a peaceful demonstration:
"I hope [authorities] won't [use force]," Milinkevich said. "I believe there are also reasonable people on their side. When [a government] constantly resorts to forcible methods, it first of all testifies to its weakness -- after all they need to prove they are worth something as men -- and, second, it shows that its end is nearing. A country cannot be ruled by these methods, there has to be dialogue, partnership. But they've forgotten what that is. For them [the upcoming rally] is like a final test, a final warning. But we'll be peaceful, this I promise, there won't be any taking of the Bastille."
The March 25 rally was initially due to take place on October (Kastrychnitskaya) Square, where protest rallies had taken place for most of the week that followed election day.
But security forces had cleared the square on March 24, arresting scores of protesters. Earlier today, they had blocked all access to October Square, forcing demonstrators to move onto Yanka Kupala Square, in a nearby park.
March 24 Arrests
Belarus's Belapan independent news agency today quoted rights campaigners as saying no less than 328 people were arrested during the March 24 sweep. This figure could not be officially confirmed.
Also today, Belapan reported the head of Milinkevich's election campaign staff in the city of Brest was also arrested on March 24. Dzmitry Shymanski was first arrested 10 days ago on charges of participating in an unsanctioned opposition rally and had just been released from police custody when he was arraigned again, this time for "hooliganism."
Minsk, March 25
THE AUTHORITIES GET TOUGH: RFE/RL's Belarus Service filed these images from the police action against the March 25 demonstration in Minsk. Photographs by Maks Kapran.
LISTEN
Listen to the sounds of the demonstration:
Real Audio Windows Media
Real Audio Windows Media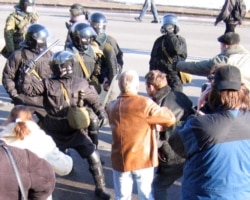 (RFE/RL)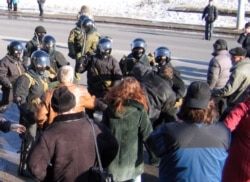 (RFE/RL)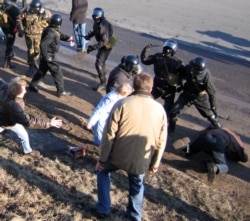 (RFE/RL)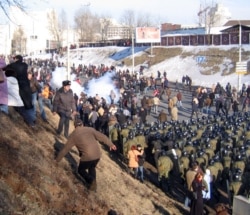 (RFE/RL)

THE COMPLETE PICTURE:
Click on the image to view a dedicated page with news, analysis, and background information about the Belarusian presidential ballot.


COVERAGE IN BELARUSIAN: Click on the image to view RFE/RL's coverage of the election campaign in Belarusian and to listen to RFE/RL's Belarusian Service.