Defying Ban, Opposition Urges Rally Today In Belarus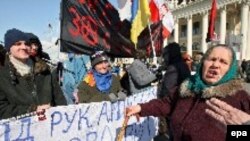 An elderly woman who supports President Lukashenka argues with members of the opposition, who continued to protest on the central square in Minsk on March 23 (epa) March 25, 2006 (RFE/RL)-- Despite an official ban, the liberal opposition in Belarus has urged supporters to rally in Minsk today to continue protests against what it calls the rigged reelection of President Alyaksandr Lukashenka, RFE/RL's Belarus Service reports.
Alyaksandr Milinkevich-- who lost to Lukashenka in the March 19 poll -- urged supporters to mass "no matter what" in October Square.
Riot police cleared a protest camp from that square early Friday morning, ending a four-day protest. Some 200 protesters were taken away in trucks to a pre-detention center.
The United States and European Union denounced the police action and both announced plans to impose new restrictions on Belarus, including a travel ban.
Russian Foreign Minister Sergei Lavrov, however, described the police action as "restrained." He also accused the Organization for Security and Cooperation in Europe -- which described the election as flawed -- of playing an inflammatory role in Belarus.
(with additional material from Reuters)


Click on the image to view a photo gallery of election-day events in Belarus.
THE BELARUS ELECTION: To view a complete archive of RFE/RL's coverage of the March 19 presidential election, click here.
To read and listen to RFE/RL's Belarus Service's coverage of the vote in Belarusian, click here.