The RFE/RL correspondent said some 100 riot police took away protesters and put them into waiting trucks. The AFP news agency said one of those arrested was the son of the main opposition leader, Alyaksandr Milinkevich.
Milinkevich said "the authorities are destroying freedom, truth, and justice."
By the end of the 10 to 15 minute operation, according to RFE/RL's correspondent, all of the protesters -- numbering about 250 -- had been taken away. All that remained were their tents and some gear.
"I think the authorities, once again, demonstrated that they do not know what a dialogue with the society is," Milinkevich told journalists this morning. " They don't know how to talk to the people. They only know the language of force, the language of lies.''
"This power has no future because, in the modern world, it is not possible to build society by force," he added. "This is not the 18th century, and it is not Alyaksandr Lukashenka's kingdom. He is a bankrupt for sure."
Fellow opposition leader and former presidential hopeful Alyaksandr Kazulin spoke to journalists on the square after the arrests.
"We saw today that new times have come," Kazulin said. "The youth showed all its heroism. They also showed that authorities couldn't stand it, and it is really sad. And this is our history, our life."
The demonstrators have been protesting all week against the election which they say was rigged.
(with additional agency material)
See also:
Interview: Is This The End Of The Election Protests?
Minsk, March 24
THE POLICE MOVE IN: RFE/RL's Belarus Service filed these images from October Square in the early morning hours of March 24. All photographs were taken by Yuliya Darashkevich.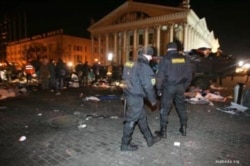 (RFE/RL)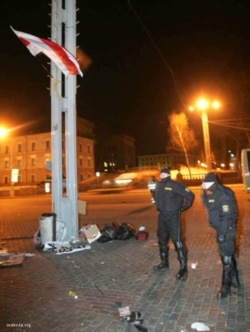 (RFE/RL)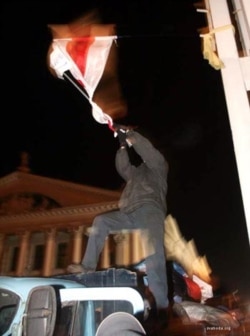 (RFE/RL)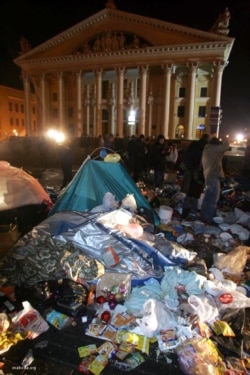 (RFE/RL)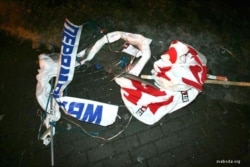 (RFE/RL)
SEE FOR YOURSELF: View a short video clip taken on October Square on the morning of March 21:
Real Audio Windows Media


THE COMPLETE PICTURE: Click on the image to view a dedicated page with news, analysis, and background information about the Belarusian presidential ballot.


COVERAGE IN BELARUSIAN: Click on the image to view RFE/RL's coverage of the election campaign in Belarusian and to listen to RFE/RL's Belarusian Service.