BRUSSELS, March 24, 2006 (RFE/RL) -- EU leaders today confirmed plans to impose "restrictive measures" on all officials considered responsible for electoral violations during the March 19 presidential poll.

Austrian Foreign Minister Ursula Plassnik announced the planned sanctions at the close of a summit in Brussels. She gave no details of the sanctions, but she underscored that their key target is Lukashenka himself.
Targeted 'Restrictive Measures'

"The European Council has thus decided to take restrictive measures against those responsible for the violations of international electoral standards, including President Lukashenka," she said.

The measures are likely to take the form of visa bans on top officials. The extent of the bans remains unclear as yet -- other than including Lukashenka. But they are certain to go beyond the six Belarusian officials who are currently barred from entering the European Union.

Some EU officials have also privately raised the possibility of an asset freeze. Others, however, doubt the value of such a move. The EU cannot confirm whether Lukashenka or members of his regime hold bank accounts on its territory.
A Toughening Stance

One senior EU source told RFE/RL that the bloc's leaders were galvanized into action in the wake of this morning's forceful actions by Belarusian police. EU foreign ministers had cursorily passed over the issue at dinner on March 23. The source said the EU's Austrian Presidency had appeared to be favoring a brief press statement about the situation in Belarus, without a discussion at the level of EU leaders.

This morning, however, Plassnik took a tougher stance, telling reporters on her arrival at the summit venue that Belarus must respect basic freedoms.

"The events of tonight have confirmed our critical assessment of elections that were fundamentally flawed, as was stated by the OSCE [Organization for Security and Cooperation in Europe]," Plassnik said. "So, events during the night have confirmed this negative assessment, and we urge the Belarus authorities to respect the freedom of assembly and to release the prisoners."
Homing In On Lukashenka

Today's discussion focused on whether to name Lukashenka in the statement. The senior EU source told RFE/RL that foreign ministers representing Sweden, Denmark, Estonia, and Lithuania spoke strongly in favor of targeting Lukashenka by name. Germany, Belgium, and Luxembourg were against, arguing such a move could harm efforts to conduct talks with Belarus and assist its civil society.

The final statement shows the tough line carrying the day, with the strong support of a number of other, mostly Eastern European, countries.

EU diplomats earlier told RFE/RL that some member states may have feared complicating their relationship with Russia over Belarus. Russia has voiced its satisfaction with the March 19 election. One EU source says it is understood that Russian President Vladimir Putin personally called Lukashenka prior to the poll to warn him against using violence. But any goodwill that may have existed owing to Putin's reputed intervention was undone by this morning's police operation.
Looking For Unity In Implementation

Today's EU statement urges all countries -- especially Belarus's neighbors -- to follow the EU's tough line.

The sanctions will be finalized by EU foreign ministers when they meet on April 10. EU officials say some member states want the visa ban to target the entire Belarusian government, the Central Election Commission, as well as local branches of the electoral authorities. Others argue against sweeping sanctions against local officials who may not be dedicated Lukashenka loyalists.

It is unlikely that all government ministers would be targeted. In the words of the EU diplomat, "Some channels of contact remain necessary."
Minsk, March 24
THE POLICE MOVE IN: RFE/RL's Belarus Service filed these images from October Square in the early morning hours of March 24. All photographs were taken by Yuliya Darashkevich.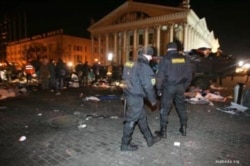 (RFE/RL)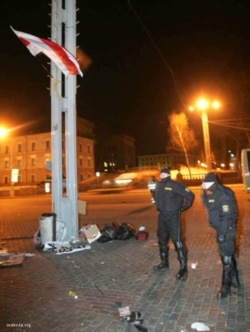 (RFE/RL)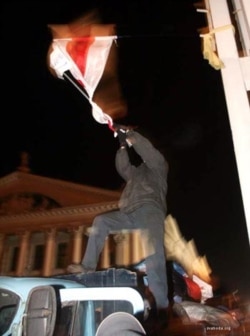 (RFE/RL)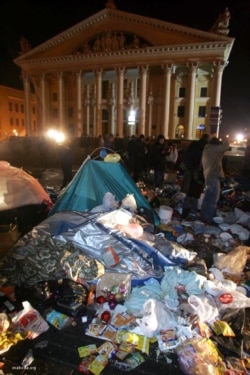 (RFE/RL)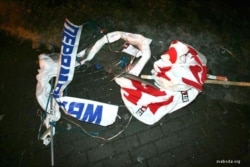 (RFE/RL)
SEE FOR YOURSELF: View a short video clip taken on October Square on the morning of March 21:
Real Audio Windows Media


THE COMPLETE PICTURE: Click on the image to view a dedicated page with news, analysis, and background information about the Belarusian presidential ballot.


COVERAGE IN BELARUSIAN: Click on the image to view RFE/RL's coverage of the election campaign in Belarusian and to listen to RFE/RL's Belarusian Service.