European Union leaders said the March 19 election, which gave Lukashenka a third term, was "fundamentally flawed." They announced "restrictive measures" against Belarusian officials, including Lukashenka.
Foreign Minister Ursula Plassnik of Austria, which currently holds the EU rotating presidency, called on Belarusian authorities to immediately release protesters detained today when police broke up their vigil in central Minsk.
"We have demanded an immediate release of all those detained [protesters], and we are calling on Belarus authorities to refrain from any further action against peaceful protests," she said.
The United States said it would impose "targeted travel restrictions and financial sanctions."
Despite today's arrests, opposition leader Alyaksandr Milinkevich vowed protesters will hold a rally tomorrow as planned.
(compiled from agency reports)
See also:
Interview: Is This The End Of The Election Protests?

Minsk, March 24
THE POLICE MOVE IN: RFE/RL's Belarus Service filed these images from October Square in the early morning hours of March 24. All photographs were taken by Yuliya Darashkevich.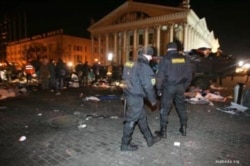 (RFE/RL)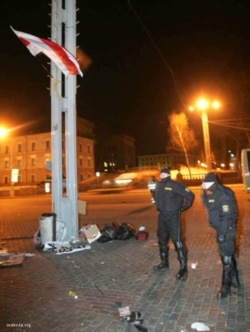 (RFE/RL)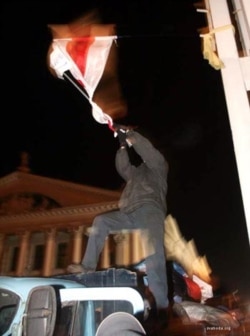 (RFE/RL)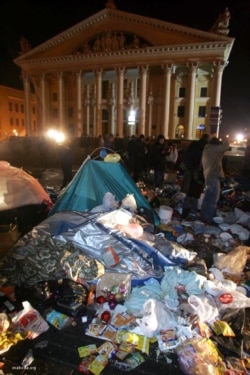 (RFE/RL)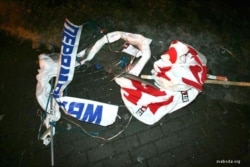 (RFE/RL)
SEE FOR YOURSELF: View a short video clip taken on October Square on the morning of March 21:
Real Audio Windows Media


THE COMPLETE PICTURE: Click on the image to view a dedicated page with news, analysis, and background information about the Belarusian presidential ballot.


COVERAGE IN BELARUSIAN: Click on the image to view RFE/RL's coverage of the election campaign in Belarusian and to listen to RFE/RL's Belarusian Service.