RFE/RL: How many people have been arrested in connection with these protests since they began on March 19? What is likely to happen to them?
Jan Maksymiuk: There were between 200-300 people arrested. Nobody knows the exact number for sure because there were no officials reports. I think they will be tried and sentenced to jail terms from 10-15 days, so the trials will take place today and perhaps on Monday or even Tuesday because the courts won't be able to cope with so many people.
RFE/RL: What effect will this have on the rally planned for tomorrow? Can we expect the numbers we saw on the first night of the protests?
Maksymiuk: Reportedly on March 19, immediately after the closure of the presidential poll, there were between 10,000 and 20,000 people on October Square in Minsk. In the following days, the protests were smaller. So I don't expect so many people on [March 25]. I think several thousand will turn up for the rally. What we can say is that the opposition has failed to attract many people in Minsk to its cause. Minsk is a big city, with some 2 million people -- so 3,000 or 4,000 people gathering every evening for four days is not such an impressive number. I think it's a big disappointment for the opposition.
RFE/RL: Why did Lukashenka wait until now to make arrests?
Maksymiuk: I think Lukashenka was afraid to make arrests on Monday or on Tuesday [March 20-21] because there were still many foreign election observers and foreign journalists in Minsk. But after four days the media interest in the vote subsided and so they decided that it's the right time to end this protest and broke up the makeshift tent camp on October Square in Minsk.
RFE/RL: The protests were largely peaceful, apart from some reported scuffles with police. Have you been surprised there hasn't been more bloodshed this week?
Maksymiuk:
No, I wasn't surprised. I didn't expect that there would be much violence, because Lukashenka, I think he wanted to prevent violence. He has already the image of the last dictator in Europe, so using force against students and young people would just soil him image even further. But I think he also wanted to show the world that he doesn't need to use force and violence because immediately after the election on [March 20] he said the opposition in Belarus is worth nothing. So using violence against the opposition would mean it is actually worth something. So that's why I think why police avoided using force, weapons, and batons against protesters.
RFE/RL: How have these demonstrations been portrayed in the official press in Belarus?
Maksymiuk: The official media covered this protest as just a small group of people -- young, or even juvenile people -- who are attracted there by the opposition leader with vodka, and something like that. And Belarusian Television usually show a heap of empty vodka bottles; that was the prevailing image of the protest presented by the official media in Belarus.
RFE/RL: It seems highly unlikely these protests are going to achieve their stated goal of scheduling a new election for the summer. But will these protests have a lasting impact in Belarus?
Maksymiuk: I think the protests have changed the political climate in Belarus. People have become after this week less afraid to take to the streets. So the opposition in Belarus has no other channel than taking people to the streets because there are no opposition representatives in parliament or at the local level of power. So the only way to present its stance, to voice its dissatisfaction is by taking people to the streets. So I think it will be easier for the opposition now to organize such street rallies after this week. I think if we can say that the opposition has achieved some victory during these protests, it was a victory over fear in Belarus.
RFE/RL: How would you evaluate the Western response? Was it too strong, risking violence or unrest? Or was it too weak to give the demonstrators sufficient encouragement?
Maksymiuk: I think the Western response was adequate, and it was expected in Belarus by both the authorities and the opposition. The Organization for Security and Cooperation in Europe's monitoring mission said the election was neither free nor democratic. And Brussels has signaled that it may harden its stance on Minsk by expanding its travel ban to include a larger number of officials involved in the election and journalists who covered the elections for the state media in a one-sided manner. The U.S. response was tougher -- Washington fully took the opposition's side and backed its demand to hold a new vote. But the truth is that the West, in general, has no political leverage in Belarus. President Lukashenka is not interested in the carrots the West could offer him, and he's not afraid of its sticks. If the EU imposed economic sanctions, it might force Lukashenka to change his behavior, but nobody is really considering this to be a serious option. Economic sanctions are a double-edged weapon --- they could hit ordinary Belarusians just as hard as they hit the regime.
Assessing The Election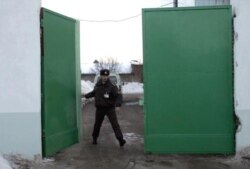 A police officer closes the gate on a Minsk detention center after demonstrators were brought there on March 24, 2006 (RFE/RL)
LOOKING BACK: On March 21, 2006, RFE/RL's Washington office hosted a briefing on the March 19 presidential election in Belarus and its unfolding aftermath. The roundtable discussion featured CELESTE WALLANDER, director and senior fellow at the Russia and Eurasia Program of the Center for Strategic and International Studies; "The New York Times" Moscow correspondent STEVEN LEE MYERS; and RFE/RL Belarus Service Director ALEXANDER LUKASHUK (the latter two speaking via telephone from Minsk).
The roundtable discussion focused on the actions of the administration of President Alyaksandr Lukashenka during the campaign and the election and on what the world can expect from Lukashenka's third term in office.
Listen to the entire briefing (about 60 minutes):
Real Audio Windows Media


THE COMPLETE PICTURE: Click on the image to view a dedicated page with news, analysis, and background information about the Belarusian presidential ballot.