MINSK, March 24, 2006 (RFE/RL) -- In a brisk operation lasting no more than 15 minutes, Belarusian riot police speaking through bullhorns ushered the roughly 200 protesters on the square into waiting vans and on to detention centers.
Many of them are due to appear in court today to face charges of taking part in an unsanctioned rally.
Police deny they used excessive force in arresting the protesters and breaking down the tent city they had assembled over the course of their five-day demonstration. Some protesters allege they were punched by police during the operation.
Regime 'Bankrupt'
Alyaksandr Milinkevich was the main opposition candidate in the elections and a key figure in this week's protests. His 20-year-old stepson was among those detained during the October Square raid, according to RFE/RL's Belarus Service.
Milinkevich told reporters the Lukashenka regime has once again resorted to force in dealing with public dissent.
"This power has no future because, in the modern world, it is not possible to build society with bayonets," he said. "This is not the 18th century, and it is not Alyaksandr Lukashenka's kingdom. He is bankrupt, for sure."
Milinkevich said he will meet with other opposition leaders today to discuss strategy following the crackdown. But he said an opposition rally planned for March 25 is still on.
International Reaction
The West has criticizing the overnight arrests. The European Union and the United States both condemned the operation.
Swedish Prime Minister Goran Persson, speaking ahead of today's EU talks in Brussels, said it is time for tough measures on Lukashenka's regime.
"I think we must take a clear stand about Belarus. It is the last dictatorship in Europe," he said. "It is a neighboring country to the European Union, and we have to give all possible support to the democratic forces inside the country."
The Organization for Security and Cooperation in Europe (OSCE) is calling on Belarusian authorities to halt their "persecution" of opposition activists and release the protesters.
Russia, which backs Lukashenka and supports the official vote results, responded with critical remarks of its own. Russian Foreign Minister Sergei Lavrov accused the OSCE of playing an "inflammatory role" in Belarus by announcing long before the March 19 ballot that it would not be legitimate.
Opposition Defeat?
Alyaksandr Kazulin, the second opposition candidate in the presidential vote, said the overnight arrests should not be seen as a defeat for the opposition. He spoke to journalists on October Square after the raid:
"We saw today that new times have come," he said. "The youth showed all its heroism. They also showed that authorities couldn't stand it, and it is really sad. And this is our history, our life."
Official final results from Belarus's Central Election Commission gave Lukashenka a third consecutive term with 83 percent of the vote. Milinkevich, his closest rival, took 6 percent. Kazulin and a fourth candidate, lawmaker Syarhey Haydukevich, took 2.2 and 3.5 percent of the vote, respectively.
(with additional material from agencies)
Minsk, March 24
THE POLICE MOVE IN: RFE/RL's Belarus Service filed these images from October Square in the early morning hours of March 24. All photographs were taken by Yuliya Darashkevich.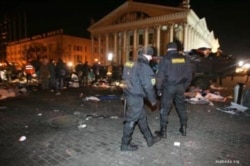 (RFE/RL)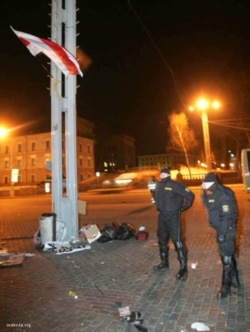 (RFE/RL)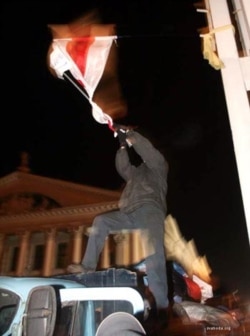 (RFE/RL)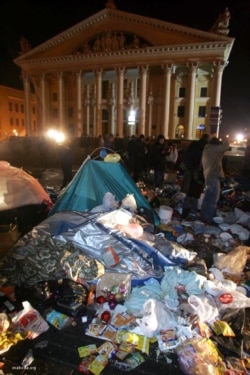 (RFE/RL)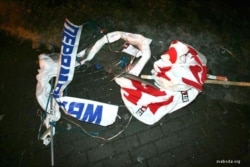 (RFE/RL)
SEE FOR YOURSELF: View a short video clip taken on October Square on the morning of March 21:
Real Audio Windows Media


THE COMPLETE PICTURE: Click on the image to view a dedicated page with news, analysis, and background information about the Belarusian presidential ballot.


COVERAGE IN BELARUSIAN: Click on the image to view RFE/RL's coverage of the election campaign in Belarusian and to listen to RFE/RL's Belarusian Service.