Police have detained hundreds of people since the March 19 election, which the opposition -- backed by Western governments and observers -- says was fraudulent.
Many of those arrested have been sentenced to up to 15 days in prison.
Rights activists say 20 inmates at a detention center east of Minsk have gone on hunger strike.
A lawyer for Alyaksandr Kazulin, an opposition leader jailed during the March 25 protest in Minsk, said his client had been mistreated. Igor Rynkevich said police kicked Kazulin frequently and bound his wrists with handcuffs at maximum tightness.
Former Czech president Vaclav Havel today called on Belarusian authorities to released those detained.
(compiled from agency reports)

Minsk, March 25
THE AUTHORITIES GET TOUGH: RFE/RL's Belarus Service filed these images from the police action against the March 25 demonstration in Minsk. Photographs by Maks Kapran.
LISTEN
Listen to the sounds of the demonstration:
Real Audio Windows Media
Real Audio Windows Media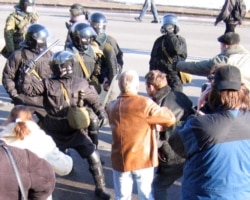 (RFE/RL)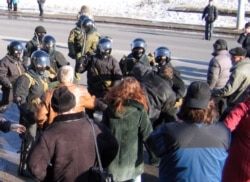 (RFE/RL)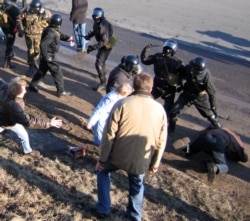 (RFE/RL)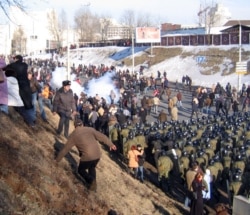 (RFE/RL)

THE COMPLETE PICTURE:
Click on the image to view a dedicated page with news, analysis, and background information about the Belarusian presidential ballot.


COVERAGE IN BELARUSIAN: Click on the image to view RFE/RL's coverage of the election campaign in Belarusian and to listen to RFE/RL's Belarusian Service.