Belarus Opposition Vows To Keep Pushing For New Elections
Opposition supporters light candles in solidarity with the people injured and arrested during last week's protests (epa) March 27, 2006 -- Belarusian opposition leader Alyaksandr Milinkevich is quoted today as saying activists would continue to press for a repeat presidential election to annul last week's victory by President Alyaksandr Lukashenka.
In an interview with Associated Press, Milinkevich said he believed cracks were forming in Lukashenka's rule.
But he said activists must now step back from their protests and focus on spreading the word in that change is possible.
Milinkevich also appealed to the European Union to press harder for the release of demonstrators arrested during the protests.
Reports said courts had begun sentencing demonstrators to 15 days in jail on charges of attending opposition rallies.
The opposition -- backed by Western government and observers -- say the poll was deeply flawed.
(AFP)
THE AUTHORITIES GET TOUGH: RFE/RL's Belarus Service filed these images from the police action against the March 25 demonstration in Minsk. Photographs by Maks Kapran.
LISTEN
Listen to the sounds of the demonstration:
Real Audio Windows Media
Real Audio Windows Media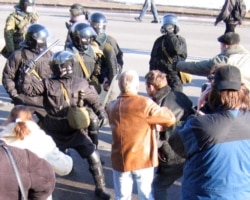 (RFE/RL)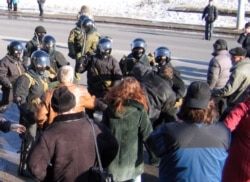 (RFE/RL)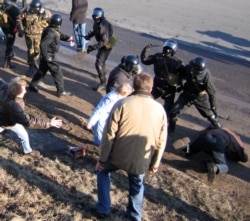 (RFE/RL)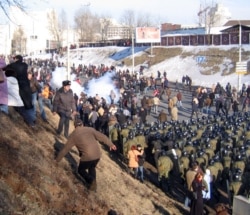 (RFE/RL)

THE COMPLETE PICTURE:
Click on the image to view a dedicated page with news, analysis, and background information about the Belarusian presidential ballot.


COVERAGE IN BELARUSIAN: Click on the image to view RFE/RL's coverage of the election campaign in Belarusian and to listen to RFE/RL's Belarusian Service.