Poland's PAP news agency reported that among the sentenced foreigners is a former Polish ambassador to Belarus, Mariusz Maszkiewicz.
Belarus's independent Belapan news agency reported that two Ukrainians and three Russians, including rights campaigner Aleksandr Podrabinek, received similar jail terms today.
Georgian television reporters Nino Giorgobiani and Giorgi Laghidze received sentences of five and 15 days, respectively.
All trials took place behind closed doors.
Dozens of Belarusian opposition supporters are also expected to appear in court today. They were all arrested during police security sweeps on March 24-25.
The Belarusian opposition has been protesting the outcome of the March 19 election, which gave incumbent President Alyaksandr Lukashenka a landslide reelection win.
(PAP, Belapan, Prima News, Rustavi-2)
Minsk, March 25
THE AUTHORITIES GET TOUGH: RFE/RL's Belarus Service filed these images from the police action against the March 25 demonstration in Minsk. Photographs by Maks Kapran.
LISTEN
Listen to the sounds of the demonstration:
Real Audio Windows Media
Real Audio Windows Media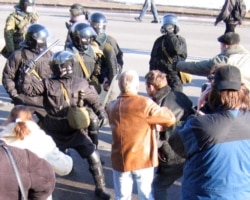 (RFE/RL)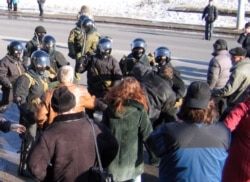 (RFE/RL)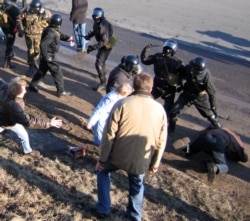 (RFE/RL)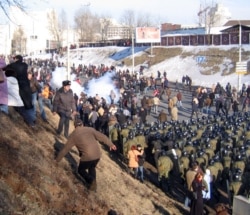 (RFE/RL)

THE COMPLETE PICTURE:
Click on the image to view a dedicated page with news, analysis, and background information about the Belarusian presidential ballot.


COVERAGE IN BELARUSIAN: Click on the image to view RFE/RL's coverage of the election campaign in Belarusian and to listen to RFE/RL's Belarusian Service.