Many protesters were beaten and detained on March 25 as they rallied in Minsk to dispute the March 19 reelection of President Alyaksandr Lukashenka.
In a statement, Steinmeier said that "the basic right to freedom of opinion and assembly" must also apply in Belarus. He also said he planned to invite Belarusian opposition leader Alyaksandr Milinkevich to attend the next meeting of EU foreign ministers in Luxembourg next month.
The EU is considering new sanctions against Belarus in view of the March 19 election, which it termed undemocratic.
Steinmeier also called for the immediate release of opposition leader Alyaksandr Kazulin, who was among the protesters detained on March 25.
(RFE/RL's Russian and Belarus services, with Reuters, AP)
Minsk, March 25
THE AUTHORITIES GET TOUGH: RFE/RL's Belarus Service filed these images from the police action against the March 25 demonstration in Minsk. Photographs by Maks Kapran.
LISTEN
Listen to the sounds of the demonstration:
Real Audio Windows Media
Real Audio Windows Media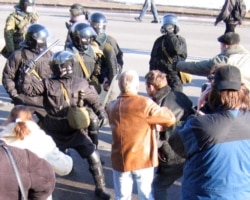 (RFE/RL)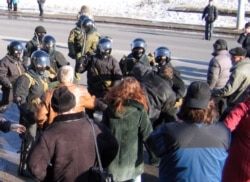 (RFE/RL)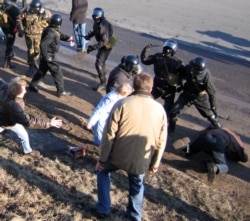 (RFE/RL)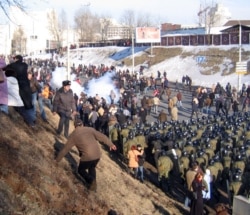 (RFE/RL)

THE COMPLETE PICTURE:
Click on the image to view a dedicated page with news, analysis, and background information about the Belarusian presidential ballot.


COVERAGE IN BELARUSIAN: Click on the image to view RFE/RL's coverage of the election campaign in Belarusian and to listen to RFE/RL's Belarusian Service.