Police, Opposition Clash In Minsk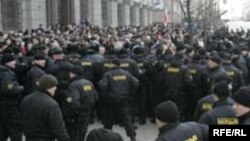 Protesters and police reportedly clashed in Minsk on March 25 (RFE/RL) MINSK, March 25, 2006 (RFE/RL) -- RFE/RL's Belarus and Russian services report clashes between opposition supporters and police today in the Belarusian capital Minsk.
They also have reported that there have been explosions of undetermined origin. An RFE/RL Belarus Service correspondent says he saw several people lying on the ground.

The clashes occurred after thousands of opposition supporters rallied on Yanka Kupala Square to demand that the outcome of the March 19 presidential polls be annulled.

Reports also say Belarusian police have detained opposition leader Alyaksandr Kazulin.

(with AP, Reuters)
Listen to the sounds of the demonstration:
Real Audio Windows Media
Real Audio Windows Media

THE POLICE MOVE IN: RFE/RL's Belarus Service filed these images from October Square in the early morning hours of March 24. All photographs were taken by Yuliya Darashkevich.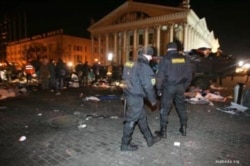 (RFE/RL)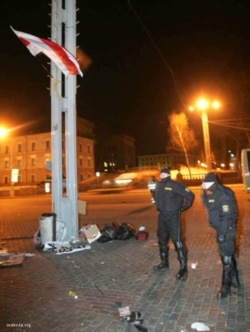 (RFE/RL)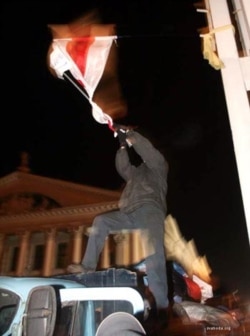 (RFE/RL)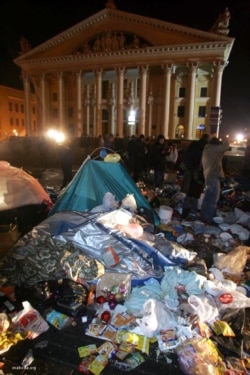 (RFE/RL)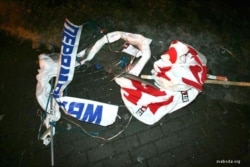 (RFE/RL)
SEE FOR YOURSELF: View a short video clip taken on October Square on the morning of March 21:
Real Audio Windows Media


THE COMPLETE PICTURE: Click on the image to view a dedicated page with news, analysis, and background information about the Belarusian presidential ballot.


COVERAGE IN BELARUSIAN: Click on the image to view RFE/RL's coverage of the election campaign in Belarusian and to listen to RFE/RL's Belarusian Service.