Addressing the crowd assembled on Yanka Kupala Square, opposition leader Alyaksandr Milinkevich announced the creation of what he described as "a popular movement for the liberation of Belarus."
Milinkevich also vowed that President Alyaksandr Lukashenka would not finish his newly won five-year term.
Talking to reporters before the rally, Milinkevich denounced the government's repressive methods.
"A country cannot be ruled by these methods, there has to be dialogue, partnership," he said. "But they've forgotten what that is. This is their last test, their final warning. But we'll be peaceful, I promise that, there won't be any taking of the Bastille."
The opposition rally was initially due to take place on Minsk's October Square. But police prevented the crowd from reaching the area.
The opposition claims the election, which gave Lukashenka a landslide reelection win, was fraudulent.
(Reuters, AFP, Belapan)
Minsk, March 24
THE POLICE MOVE IN: RFE/RL's Belarus Service filed these images from October Square in the early morning hours of March 24. All photographs were taken by Yuliya Darashkevich.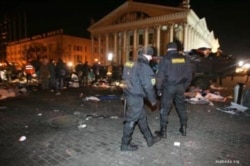 (RFE/RL)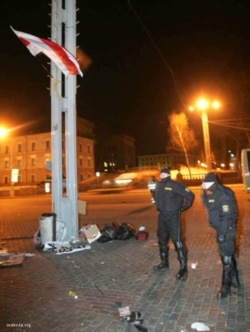 (RFE/RL)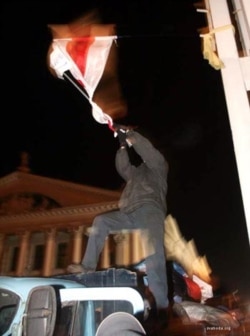 (RFE/RL)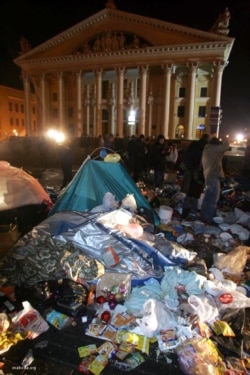 (RFE/RL)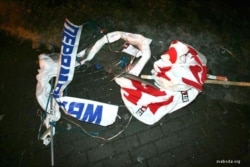 (RFE/RL)
SEE FOR YOURSELF: View a short video clip taken on October Square on the morning of March 21:
Real Audio Windows Media


THE COMPLETE PICTURE: Click on the image to view a dedicated page with news, analysis, and background information about the Belarusian presidential ballot.


COVERAGE IN BELARUSIAN: Click on the image to view RFE/RL's coverage of the election campaign in Belarusian and to listen to RFE/RL's Belarusian Service.