Journalists In Belarus Jailed, One Reported Beaten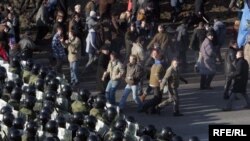 Many demonstrators were arrested in Minsk on March 25 (RFE/RL) March 28, 2006 (RFE/RL) -- International press-freedom groups said today a court in Belarus has convicted several journalists on charges of hooliganism or for taking part in unsanctioned demonstrations against the reelection of President Alyaksandr Lukashenka.
The Committee to Protect Journalists and Reporters Without Borders said the convicted journalists included citizens of Belarus, Poland, Russia, and Georgia.
They were handed sentences of up to 15 days in jail.
Reporters Without Borders said at least 26 journalists had been detained in Belarus since the March 19 election which the Belarusian opposition -- backed by Western governments and observers -- say was rigged. Seventeen remained in police custody.
The groups said authorities also detained and beat a Russian journalist, Pavel Sheremet from Russia's Channel One television, before releasing him on March 26.
(with material from AP)
THE AUTHORITIES GET TOUGH: RFE/RL's Belarus Service filed these images from the police action against the March 25 demonstration in Minsk. Photographs by Maks Kapran.
LISTEN
Listen to the sounds of the demonstration:
Real Audio Windows Media
Real Audio Windows Media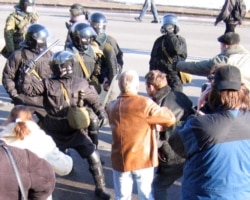 (RFE/RL)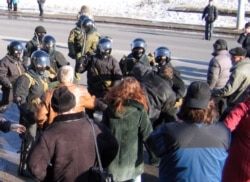 (RFE/RL)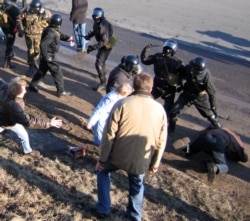 (RFE/RL)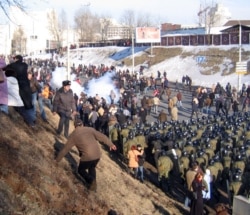 (RFE/RL)

THE COMPLETE PICTURE:
Click on the image to view a dedicated page with news, analysis, and background information about the Belarusian presidential ballot.


COVERAGE IN BELARUSIAN: Click on the image to view RFE/RL's coverage of the election campaign in Belarusian and to listen to RFE/RL's Belarusian Service.