A crowd of up to 4,000 protesters gathered in a central square to press demands for a rerun of the March 19 vote. The demonstrators, backed by the United States and the European Union, say the vote was unfair and undemocratic.
No new arrests were reported by nightfall.
Alyaksandr Milinkevich, Lukashenka's main opposition challenger, told the protesters the Belarus authorities are seeking to destroy the political opposition.
Police have detained more than 100 people since protests began on the night of the voteA protester named Mikhal Audzeyeu earlier today told RFE/RL's Belarus Service that he was beaten by police outside Kastrychnitskaya (October) Square.
"I was beaten. I know that I stand for Belarus and no matter how many bruises, injuries, cuts, or bullet wounds I'll have, I will stay here until the last minute, together with everybody else, with my brothers and sisters for our free Belarus," Audzeyeu said.
Several dozen Lukashenka supporters, mostly elderly, arrived in the square to argue with protesters. Later, four ambulance trucks and a water tanker were also driven to the square in what appeared to be a war of nerves between Lukashenka and protesters.
Milinkevich has called for a massive rally on March 25 but today conceded the protests were unlikely to topple Lukashenka.
(with additional agency material)
Minsk, Day Three
DEMONSTRATIONS CONTINUE: On March 21, the opposition protests in Minsk continued, although the crowds dwindled as authorities began arresting and intimidating some demonstrators. RFE/RL's Belarus Service is reporting continuously from October Square and filed these images.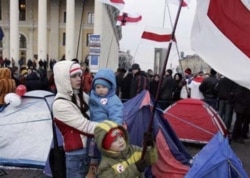 Young and old alike were on hand for the rally on March 21 (RFE/RL)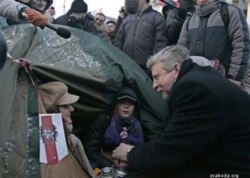 Opposition leader Alyaksandr Milinkevich (right), who took 6 percent of the March 19 vote according to official figures, speaks to supporters (RFE/RL)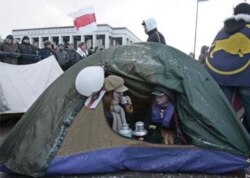 Demonstrators huddled in tents and drank tea to keep warm (RFE/RL)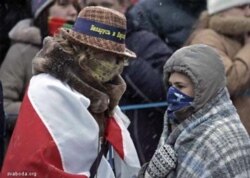 Temperatures have been below freezing since the beginning of the protests with intermittent snowfall (RFE/RL)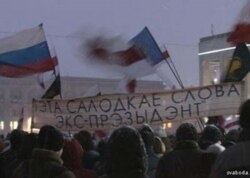 As night fell, diehard protesters pledged to continue their vigil on the square, reiterating their calls for a new election (RFE/RL)
SEE FOR YOURSELF: View a short video clip taken on October Square on the morning of March 21:
Real Audio Windows Media


THE COMPLETE PICTURE: Click on the image to view a dedicated page with news, analysis, and background information about the Belarusian presidential ballot.


COVERAGE IN BELARUSIAN: Click on the image to view RFE/RL's coverage of the election campaign in Belarusian and to listen to RFE/RL's Belarusian Service.