Gazprom has threatened to suspend gas supplies to Belarus on January 1 if Minsk refuses to pay the new rate of $105 per 1,000 cubic meters of gas -- more than twice what it currently pays.
The company says Belarus could negotiate a reduction if it hands over a 50-percent share of its state-controlled gas-transport network.
Belarus has responded by saying it will not allow Gazprom to send gas through its pipelines unless a deal on 2007 gas prices is reached by the New Year. It has also threatened to siphon off Russian gas bound to Europe in the event of a gas shutoff.
Miller today accused Belarus of adopting a "destructive position." He said that Gazprom was not "Santa Claus" and that Belarus should not expect any gifts on New Year's Eve.
The dispute comes exactly one year after a similar row with Ukraine briefly disrupted Russian gas deliveries to several European countries.
(compiled from agency reports)
How Much Do The Neighbors Pay?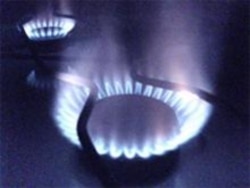 SETTING THE RATES: With Gazprom negotiating new contracts, many states will be paying more for Russian natural gas in 2007.
Belarus, following tense negotiations with Gazprom, will pay $100 per 1,000 cubic meters in -- up from $47 in 2006. Ukraine, which depends on Russia to supply it with about 77 percent of its gas, will pay $130 per 1,000 cubic meters of a Turkmen-Russian gas mix. Moldova, which depends on Russia for 100 percent of its gas, will pay $170 per 1,000 cubic meters, with the price rising to European-level market price by 2011. Georgia has agreed to pay Gazprom $235 per 1,000 cubic meters of gas.
ARCHIVE
A
complete archive
of RFE/RL's coverage of energy issues in the Caspian Sea region and Russia.