Gazprom has threatened to stop deliveries to Belarus if it does not agree to Gazprom's new rate of $200 per 1,000 cubic meters, more than four times the current rate.
However, Gazprom spokesman Sergei Kupriyanov has said Belarus could negotiate a reduction to $110 if it hands over a 50 percent share of its state-controlled gas-transport network.
Gazprom CEO Aleksei Miller said a breakthrough in negotiations lies with the Belarusian side.
"Time flies fast, and we think that full responsibility for the situation now, at the end of the year, where we still haven't signed a contract [for Russian gas supplies to Belarus], of course, lies with the Belarusian side," Miller said. "Because Gazprom and the Russian Federation have come forward and offered the most preferential conditions [to Belarus], and we believe that these conditions are more than acceptable."
Gazprom officials say Belarus could risk a cut-off of gas supplies in January if it refuses to agree to the company's conditions.
(AP, AFP)
Russia And Belarus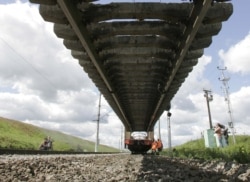 The main Moscow-Minsk railway line(Tass)

TO MERGE OR NOT TO MERGE: For over a decade, Moscow and Minsk have been working on a project to form a single state, the Russia-Belarus Union. However, every time the two countries seem on the verge of making progress, one or the other steps back, leaving the entire effort in doubt.
RELATED ARTICLES
Putin, Lukashenka Press Ahead With Unification
Has Putin Promised Lukashenka Fair Weather?
Tensions Remain In Putin-Lukashenka Talks
ARCHIVE
RFE/RL's
coverage of Belarus
. RFE/RL's
coverage of Russia
.