The book, "Symphony Of The Fifth Empire," is a collection of essays calling on Russia's elite, liberals, and patriots alike to unite to construct a new Eurasian empire -- a successor to the Soviet Union and Tsarist Russia. The introduction to Prokhanov's book, which he says is the most important in his life, has reportedly been translated into English, Chinese, Hebrew, Ukrainian, and Latvian.
"One can see signs of emerging empire almost everywhere," Prokhanov writes. "In events such as the building of new types of ships and submarines...launching the new 'Bulova' missile...or the construction of the North European Gas Pipeline."
The author is ebullient about Russia's state-controlled gas monopoly, Gazprom: "It gathers together Russia, by merging companies, connecting pipelines, extending its steel tentacles to the terminals of St. Petersburg and Nakhodka, laying [new pipeline] tracks at the bottom of the Baltic Sea and to China and stitching together the tissue of the former Soviet republics."
Bestseller
The book is likely to sell well. Prokhanov's previous best-selling novel, "Mr. Gexogen" (2002), was a thinly fictionalized account that maintains that the 1999 apartment-block explosions in Moscow and other cities, the renewal of fighting in Chechnya, and the election of Vladimir Putin as president were all the result of a conspiracy led by veterans of the KGB.
"Mr. Gexogen" won the prestigious National Bestseller Prize and Prokhanov, who had previously been a fringe nationalist figure largely ignored by the mainstream media, became a pundit on a number of national television channels and the Ekho Moskvy radio station.
Nikita Mikhalkov, an Oscar-winning filmmaker known for his pro-imperial and monarchist views, presided over the launch of Prokhanov's new book on October 24.
The event received prime-time coverage on the state-controlled Channel One and RTR television networks and in the semi-official "Rossiskaya gazeta."
Politicians from across the political spectrum attended the bash, including Leonid Gozman and Boris Nadezhdin from the liberal Union of Rightist Forces, former Deputy Prosecutor-General Aleksandr Kolesnikov from the pro-Kremlin Unified Russia party, Vladimir Zhirnovsky, a co-leader of the national-patriotic Liberal Democratic Party of Russia and Sergei Glaziyev from the nationalist Motherland.
Speaking at the event, Prokhanov, who also publishes the savage anti-Western weekly "Zavtra," said that he sees Russia's future as a new superstate, which he refers to as the "fifth empire." Russia's revival has already begun, he says, under Putin. "The first Russian empire was Kyivan Rus, the second was the Moscow Kingdom, the third was the St. Petersburg Empire of Romanovs, the Red Empire of the Soviet Union, and now we are witnessing the emergence of the 'fifth empire.' It is still invisible but its inauguration has taken place," he said.
Russian Pride
Prokhanov's ideas -- a combination of nostalgia, nationalism, and revanchism -- are nothing particularly new.
Anatoly Chubais, then the leader of the Union of Rightist Forces, spoke in 2004 of a "liberal empire" based on energy resources.
In 2005, leftist writer Maxim Kalashnikov published his book "Forward To The USSR-2," in which he popularized an unrealized scenario for the reform of the Soviet Union that dates back to the early 1980s and which was attributed to then KGB Chairman Yury Andropov. According to this scenario, the Soviet Union should be transformed from a country with a clumsy socialist economy into a smart, aggressive, and strong-willed imperial state -- a kind of Red Star Inc.
And in 2006, a group of Russian monarchists linked to the state-security community anonymously published a widely circulated book, "Russian Project," in which they called for the restoration of the monarchy and the Russian imperial order.
Growing Acceptance
But such ideas, which years ago might have seemed outlandish, are now gaining more currency among Russian elites.
Russia has accumulated a number of black marks in recent years for its dubious democratic credentials -- dubbed "sovereign democracy" by Kremlin ideologists. The suppression of mass media, restriction of NGO activities, and the abolition of gubernatorial elections have all alarmed critics in Russia and abroad.
But, of late, "sovereign democracy" has acquired more chauvinist overtones.
While the Kremlin can not be accused of supporting Russia's growing neonationalism, Putin has certainly set the tone. The wave of anti-Georgian violence following a spy scandal in September was fuelled by the Kremlin's rhetoric. In October, the Russian president called on regional authorities to clean up markets and give more quotas to ethnic Russians instead of migrants.
Moreover, controversies around the unsolved killing of critical journalist Anna Politkovskaya took place in what art critic Aleksandr Panov told U.S.-based "Newsweek" is a "new climate of barbarism."
Add to that Russia's more confrontational foreign policy, driven by both a new sense of entitlement based on oil wealth and an old sense of historical injustice. In recent weeks, this has manifested in questionable behavior over the Sakhalin-2 gas production-sharing agreement, barring foreign investors from the Shtokman project in the Barents Sea, and refusing to ratify the European Union's energy charter.
At Prokhanov's book launch, journalists asked film director Mikhalkov, who is also the president of the Russian Cultural Foundation, whether Russia's political elite subscribes to an imperial ideology. With "the problems we are confronting today and those that may arise tomorrow, politicians will be forced to accept it," he said. "In the last 15 years we've been experimenting with the free market and other things and have decided that Russia is a crossroads, where political power is vertical and the economy is horizontal."
A litmus test of sorts could take place on November 4. Last year, on that date, Russia celebrated for the first time a new People's Unity Day. The holiday, which has been embraced by neonationalists, celebrates the expulsion of Polish invaders in 1612 and the ending of Russia's so-called "Troubled Times." Although the authorities in Moscow and St. Petersburg have banned planned marches this year, neonationalists have said they still intend to rally. But politicians, human rights campaigners, and activists are joining hands to launch a counter rally in Moscow. Russia's drift to right doesn't look like it will go unchecked.
Moscow Takes On Extremism
Moscow Takes On Extremism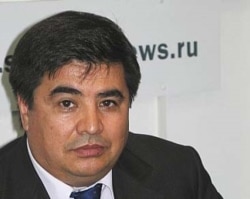 Kamlizhan Kalandarov in RFE/RL's Moscow studio (RFE/RL)
COMBATTING THE HATRED:
RFE/RL's Russian Service on August 21 spoke with
Kamilzhan Kalandarov
, a member of the Public Chamber and a leader of the NGO Our Russia. (Read
the complete interview
in Russian). Kalandarov spoke about efforts the authorities are making to combat the wave of hate crimes sweeping Russia.
Kalandarov: Xenophobia today threatens the national interests of Russia. But I agree that the authorities are making good progress in this matter. First, the order on withdrawing Russian forces from Chechnya was recently signed. That is a big plus because the source of extremism, the sources of Caucasus-phobia are partly in Chechnya. Islamophobia grew dramatically after the first Chechen war. Next, the Public Chamber was created. We have a subcommission on nationalities issues and a subcommission that drafts projects related to xenophobia. This work is ongoing, which is why I think the authorities are really interested in making sure this problem does not go any further.
We should also mention the courts. I think that in many cases judges themselves hold [xenophobic] views. Second, we have not created normal conditions for protecting witnesses. People are not physically protected from various types of influence. Judges are afraid and witnesses are afraid. Because they have to keep living in that city. This defenselessness leads to cases not being pursued and to not-guilty verdicts being issued.
RELATED ARTICLES
A Timeline Of Recent Racial Incidents
Russian Ombudsman Condemns Hate Crimes
Hate Crime Trial Highlights Mounting Racism
Minister Says Russia Can't Stop Xenophobia Alone
For African Students In Russia, Affordable Education Comes At A Price
ARCHIVE
To view an archive of all of RFE/RL's coverage of Russia, click here.

SUBSCRIBE
For a regular review of civil-society developments throughout RFE/RL's broadcast region, subscribe to "RFE/RL (Un)Civil Societies."


RFE/RL IN RUSSIAN: Visit RFE/RL's Russian-language website, featuring news, analysis, features, streaming audio, and more in Russian, courtesy of RFE/RL's Russian Service.