Yanukovych told the press that discussions about joint energy production with Russia have been under way for some time now, saying that "a 50-50 arrangement is better than a concession."
Many analysts, however, believe that Naftohaz Ukrayiny, Ukraine's state-owned oil and gas monopoly, does not have the funds needed to enter the Russian or Caspian gas- or oil-production market. The general thinking is that the most Ukraine could provide would be expertise and skilled workers.
Furthermore, Ukraine, which has its own modest gas reserves, has not been able to develop them sufficiently and continues to rely largely on imported Turkmen gas and Russian gas and oil. This situation has opened the door to Ukraine's fuel-production market to a number of Western companies.
Bringing In The Middleman
Yanukovych also pitched his joint-venture proposal during a December 22 meeting with Ukrainian energy officials and managers and owners of RosUkrEnergo, the Swiss-based middleman company that has monopoly rights to deliver Turkmen gas to Ukraine.
The Ukrayinski novyny news agency reported that "Yanukovych called on the participants in the meeting to assist Ukraine in the extraction of natural gas on the territory of Russia as well as in countries in the Caspian region."
In addition, according to the agency, Yanukovych praised RosUkrEnergo's activities in Ukraine and "thanked the leadership of Gazprom and [RosUkrEnergo part owner Dmytro] Firtash for the work that ensured steady delivery of natural gas to Ukraine during the first half of 2006.... We have learned to work in difficult conditions and adapt to very difficult issues."
RosUkrEnergo is 50 percent-owned by Gazprom and 50 percent by two Ukrainian businessmen: Firtash, who owns 45 percent, and Ivan Fursyn, who holds 5 percent. On December 22, "The Wall Street Journal Europe" reported that a number of Western law enforcement agencies are currently investigating Firtash for his alleged connections to organized crime. Firtash has denied any such links.
By inviting cash-rich RosUkrEnergo into this project, Yanukovych is apparently attempting to expand the obscure company's role from that of a middleman to a full-scale oil and gas company. Last year, Firtash applied for a license to drill for gas in Russia but his application was rejected.
Private Enterprise
In the past, Ukraine has offered to work with various countries to help develop their energy resources. A few weeks ago, Deputy Prime Minister Andriy Klyuev announced that Ukraine is seeking to help Egypt develop its gas resources. Ukrainian delegations have visited Libya on numerous occasions over the past five years and offered the country's services in helping develop Libyan gas fields. These offers have yet to yield any results, but the Ukrainian government continues to persist.
One private Ukrainian company, the Industrial Union of the Donbas (ISD), has been successful in working to develop Uzbekistan's gas infrastructure in return for gas. However, in 2006 RosUkrEnergo warned the ISD that it is the only company allowed to deliver Central Asian gas to Ukraine, requiring that the ISD work with RosUkrEnergo if it wants to continue its work in Uzbekistan.
Yanukovych may be hoping that renewed good relations with Gazprom will make his offer acceptable. He failed to mention what exactly he expects in return, but it is widely believed that Ukraine will insist on a percentage of the gas produced by such a joint effort.
But it is also worth noting the possibility that, in return for allowing Ukrainian participation in Russia, Gazprom might insist on a quid pro quo and demand to be allowed to drill for gas in Ukraine, thus gaining a larger role for its already substantial presence in the Ukrainian gas market.
Ukraine And European Energy Security
Ukraine And European Energy Security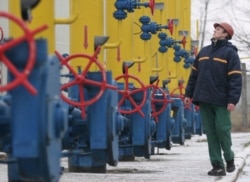 A worker inspects a gas facility outside of Kyiv (epa file photo)

MURKY CONNECTIONS. A year after the so-called gas war between Moscow and Kyiv, energy transhipments from Russia to Europe via Ukraine remain a concern. On December 1, RFE/RL's Washington office hosted a briefing featuring Tom Mayne, an energy researcher for the London-based Global Witness. Mayne discussed the lack of transparency in the energy sectors of Ukraine, Russia, and gas supplier Turkmenistan.
LISTEN
Listen to the entire briefing (about 60 minutes):

Real Audio
Windows Media
RELATED ARTICLES
Neighbors Watch As Russia Moves Toward WTO Membership
Kyiv Announces Terms Of New Russian Gas Deal
Former U.S. Ambassador Says Kyiv Can Cope With Gas Price Rise
ARCHIVE
RFE/RL's English-language coverage of
Ukraine
,
Russia
, and
Turkmenistan
.