Next year, Moldova will pay $170 per 1,000 cubic meters, a mere $10 higher than the price it paid this year.
The
modest price hike is in contrast to Gazprom's current pricing policy of
selling natural gas at world market prices, at around $250 per 1,000
cubic meters.
Voronin claimed that the price to Moldovan
consumers will actually be even less, once transit fees charged by
Moldova for shipping Russian gas into the Balkans are taken into
account. He said the price will eventually rise to international levels
in five years.
Also today, Moldova's government gave Trade and
Economy Minister Igor Dodon permission to sign the protocol approving
Russia's membership in the World Trade Organization (WTO).
Candidates for WTO memebership must secure the support of each WTO member. Moldova has been a WTO member since 2001.
Romania No 'Big Brother'
In other news, Voronin lashed out at Romania today for treating his country like a
"smaller brother."
Voronin told a news conference in Chisinau that he wants good ties with Moldova's Western neighbor, but urged Romania to consider his country an "equal" state.
"We cannot accept big brothers or big sisters," he said. "We had big brothers in the former Soviet Union. And as long as officials in Bucharest don't understand this, there will be problems in our bilateral relations."
Voronin said that after Romania joins the European Union on January 1, he will no longer tackle such issues with Bucharest, but will talk instead to Javier Solana, the EU's foreign-policy coordinator, and other EU officials.
Romania, who shares a common language and history with Moldova, has said it wants to be Chisinau's main advocate for European integration.
(with material from dpa, Mediafax)
Ukraine And European Energy Security
Ukraine And European Energy Security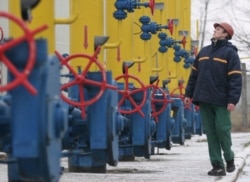 A worker inspects a gas facility outside of Kyiv (epa file photo)

MURKY CONNECTIONS. A year after the so-called gas war between Moscow and Kyiv, energy transhipments from Russia to Europe via Ukraine remain a concern. On December 1, RFE/RL's Washington office hosted a briefing featuring Tom Mayne, an energy researcher for the London-based Global Witness. Mayne discussed the lack of transparency in the energy sectors of Ukraine, Russia, and gas supplier Turkmenistan.
LISTEN
Listen to the entire briefing (about 60 minutes):

Real Audio
Windows Media
RELATED ARTICLES
Neighbors Watch As Russia Moves Toward WTO Membership
Kyiv Announces Terms Of New Russian Gas Deal
Former U.S. Ambassador Says Kyiv Can Cope With Gas Price Rise
ARCHIVE
RFE/RL's English-language coverage of
Ukraine
,
Russia
, and
Turkmenistan
.