Of course, Germany will retain the EU's traditional foreign-policy focus on the Middle East, the Balkans, and Turkey. German Foreign Minister Frank-Walter Steinmeier addressed all at length during his presentation in Brussels today.
But the elevation of Central Asia and the Black Sea region, together with Russia, to the ranks of the EU's key concerns is unprecedented in the bloc's recent history. Steinmeier made clear Germany is out to achieve concrete results in all three fields.
New Strategy In Central Asia
With Central Asia, Berlin wants to develop a new comprehensive EU strategy and establish the bloc as a serious player in the region. Steinmeier said that "despite its location in the immediate vicinity of Russia and on the Chinese border, a monopolization by both big neighbors is not desired. There are many in the region who are looking toward Europe with the expectation that Europe will take an interest in this Central Asian region."
"There are many in the region who are looking toward Europe with the
expectation that Europe will take an interest in this Central Asian
region."
Steinmeier gave three reasons why Central Asia is of strategic interest to Europe: first, it is located in the immediate vicinity of instability caused by tensions in or around Afghanistan, Pakistan and Iran. Secondly, Central Asia is struggling, so far successfully, to contain Islamic fundamentalism; and thirdly, Europe is interested in the region due to its vast energy resources.
The German foreign minister acknowledged that "many countries" in the region have yet to embark on the road to the rule of law and democracy, but he said the grounds outlined above are sufficient for upgrading the EU's engagement with Central Asia.
Black Sea Neighborhood
Steinmeier also highlighted the vastly increased significance of the Black Sea reason within the context of Bulgaria's and Romania's entry into the EU on January 1, 2007.
"From a neighborhood point of view, [Bulgaria's and Romania's accession] also means that with enlargement, the European Union will acquire new immediate neighbors, and a glance at the map will easily tell you that the countries on the Black Sea have meanwhile become immediate neighbors of the EU," he said. "This causes us to examine the effectiveness of the European Neighborhood Policy."
As an EU member, Romania is expected to try to give Moldova greater prominence on the EU agenda. Ukraine will also benefit from keener EU attention, as will Georgia and the rest of the Caucasus. Officials in Brussels say privately the bloc seems to be overcoming its recent reticence toward the region and plans for more intensive involvement.
Russian 'Bigger Picture'
Germany's third eastern priority is, inevitably, Russia. Hopes to launch talks on a new partnership agreement at a summit in Helsinki in November were blocked by a Polish veto, brought about by a farm-trade dispute.
Steinmeier said today that while the EU will retain its solidarity with Poland, Berlin is trying to focus attention on the bigger picture.
"It is in Europe's interest that Russia take the road of the rule of law and democracy and seek closer affinity with the European value system, and therefore it is from my point of view also necessary to expand the spectrum of the [existing Partnership and Cooperation Agreement] in talks with Russia and put our relations on a new footing," he said.
Steinmeier said he will be traveling to Moscow on December 20.
Among other foreign-policy priorities, Germany hopes to open at least two new negotiating chapters in accession talks with Turkey, which were partially frozen in mid-December. Steinmeier, a social democrat, said it was important that the "door had not been closed" on Turkey.
Germany will also have to guide the EU through what looks to be the decisive phase of Kosovo's status talks, expected to begin in the aftermath of Serbian elections on January 21.
Much in the EU's long-term engagement with its neighbors hinges upon the future of its presently moribund draft constitution and planned institutional reforms. Germany has said it intends to have attained a new EU consensus on the matter by the end of its presidency in June 2007.
Ukraine And European Energy Security
Ukraine And European Energy Security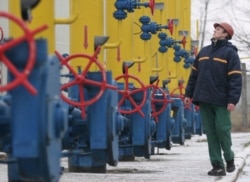 A worker inspects a gas facility outside of Kyiv (epa file photo)

MURKY CONNECTIONS. A year after the so-called gas war between Moscow and Kyiv, energy transhipments from Russia to Europe via Ukraine remain a concern. On December 1, RFE/RL's Washington office hosted a briefing featuring Tom Mayne, an energy researcher for the London-based Global Witness. Mayne discussed the lack of transparency in the energy sectors of Ukraine, Russia, and gas supplier Turkmenistan.
LISTEN
Listen to the entire briefing (about 60 minutes):

Real Audio
Windows Media
RELATED ARTICLES
Neighbors Watch As Russia Moves Toward WTO Membership
Kyiv Announces Terms Of New Russian Gas Deal
Former U.S. Ambassador Says Kyiv Can Cope With Gas Price Rise
ARCHIVE
RFE/RL's English-language coverage of
Ukraine
,
Russia
, and
Turkmenistan
.