Poland says Russia should make commitments on energy supplies by ratifying the EU Energy Charter before talks can begin. It also insists Russia lift a yearlong ban on Polish food imports, which Poland believes is politically motivated.
The veto isn't necessarily surprising, coming as it does from the largest of the 10 countries, most of them formerly communist, to join the bloc in 2004. Nor is it enough to block further negotiations.
Russia 'Not Against' Energy Charter
EU High Representative for Common Foreign and Security Policy Javier Solana told RFE/RL today that he had no doubt an agreement will be reached, and that Poland's concerns are already under discussion.
"Poland has yesterday said that they want to have as an element of the negotiations with Russia that Russia accepts the Energy Charter," Solana said. "Russia has said many times that they are not against it, [not against] the philosophy of the charter, but that they have some difficulties in accepting the manner in which these ideas are expressed. But we have a commitment with Russia to keep discussing this question about the Energy Charter, and I am sure that Poland will understand that."
"We have a commitment with Russia to keep discussing this question about
the Energy Charter, and I am sure that Poland will understand that." -- EU's Solana

Russian President Vladimir Putin refused to sign the charter at an informal EU gathering last month in Finland.
The charter, among other things, would commit Russia to providing reliable access to energy supplies and pipelines, security of investments, and transparency within the massive Russian energy market.
Instead, Putin said Russia preferred to deal bilaterally with the EU member states on energy issues. This has unnerved many countries in the EU, which is largely dependent on Russian energy supplies.
EU Coordination
EU officials remain confident a mutually agreeable deal can be struck -- or, at the very least, that the current agreement can be extended past the original deadline.
Finnish Foreign Minister Erkki Tuomioja, whose country currently holds the EU Presidency, expressed hope that EU members could find common ground on the issue.
"We'll work on the mandate [partnership agreement] and I would expect that we can finalize the mandate and have it adopted by the [European] Council," Tuomioja said. "It can still be done before the EU-Russia summit."
Few EU members had kind words for upstart Poland on November 13. Neighboring Lithuania, in fact, was one of the few to offer words of support.
Lithuanian Deputy Foreign Minister Zygimantas Pavilionis, who participated in the meeting, told RFE/RL that Lithuania coordinates its Russia policy with Poland.
"Starting in September [of this year], Lithuania has constantly consulted with Poland, as our strategic partner, on all questions concerning the Russia-EU agreement," he said. "It is not only because [Poland] is our partner, but also because our interests coincide, especially in the energy sphere."
Concerns About Russian Policy
Pavilionis added that Lithuania shares Poland's concerns about Russian energy policy.
In July, Russia stopped supplying oil to Lithuania's Mazeikiai refinery, the largest in the Baltic states. The halt came just months after a Polish firm, PKN Orlen, purchased the refinery.
The countries have also been alarmed by the recent agreement between Russia and Germany to build the Nord Stream pipeline under the Baltic Sea, bypassing Poland and the Baltic states.
More broadly, they have joined a louder chorus of voices accusing Russia of using energy as a weapon of political pressure against countries critical of its policies.
Moscow, meanwhile, has dismissed the Polish veto. Putin's special representative on EU relations, Sergei Yastrzhembsky, has accused Poland of seeking "to raise to a European level the purely domestic problems that they have with Russia." He criticized the move as "unacceptable" to Russia.
Russia's envoy to the EU, Vladimir Chizhov, said Poland had erred by delivering an unpopular "ultimatum" to its EU partners. It was, he said, proof that Moscow's past warnings to Brussels about the dangers of enlargement were accurate.
(RFE/RL's Kenan Aliyev and Harry Tamrazian contributed to this report from Brussels.)
Russia's Gas Strategy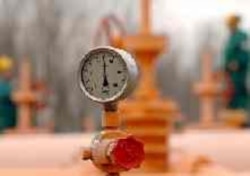 RUNNING HOT AND COLD The crisis over Russian supplies of natural gas to Ukraine that erupted on New Year's Day has implications that spread well beyond these two countries and will impact both economic and political policymaking throughout Europe. On January 19, RFE/RL's Washington, D.C., office hosted a briefing the examined the ramifications of the natural-gas conflict.
CLIFFORD GADDY, a senior fellow at the Brookings Institution, outlined Russia's "grand energy strategy," in which Ukraine is perceived as merely an obstacle frustrating Russia's energy ambitions in Western Europe and therefore a nonentity in Russia's broader strategic planning. According to Gaddy, Russia's strategic goal regarding energy is to maximize the role of its own energy resources in the world energy markets, so as to increase its geopolitical influence. To do this, it must reduce competition and maximize dependency on its own energy resources, as well as ensure a stable supply.
TARAS KUZIO, a visiting assistant professor at George Washington University, rebutted Gaddy's argument, claiming that Russia's actions evidenced a complete lack of geopolitical strategy and resulted in strong denunciations by Western countries and a loss of political allies in Ukraine. According to Kuzio, Russian President Vladimir Putin's desire to have a deal signed by the January 4 European Union energy summit outweighed his hope of reinforcing opposition to Ukrainian President Viktor Yushchenko during the run-up to Ukraine's March 26 parliamentary elections.
RFE/RL Coordinator of Corruption Studies ROMAN KUPCHINSKY did not fully agree with Kuzio's assessments of Yushchenko or Ukraine. He outlined three major problems that are feeding the conflict between Russia and Ukraine. The biggest, he argues, is that the state-controlled Russian gas giant Gazprom holds a monopoly on natural-gas sales outside the CIS. Kupchinsky also decried Ukraine's consumption of natural gas, terming it "out of control." Corruption is also a major factor in the conflict, Kupchinsky said, although the extent to which it taints the deal struck between Russia and Ukraine remains unknown.
LISTEN
Listen to the complete panel discussion (about 90 minutes):
Real Audio Windows Media
RELATED ARTICLES