Given Russia's growing international confidence, the strategy comes as no surprise. It is now affecting Russia's relations with the European Union, in particular Germany.
Moscow and the European Union, which gets 44 percent of its natural gas from Russia, could be on a collision course over the Energy Charter, which governs international energy cooperation.
The EU is pushing Russia to ratify the charter, which it signed in 1994. But Russian President Vladimir Putin has repeatedly said Moscow will not approve the accord, unless it's revised to meet Russian demands.
Shaping Policy
Earlier this year, in a policy statement, the inflential, Moscow-based Institute of National Strategy stressed that Russian natural resources are sovereign and cannot be the subject of any international negotiations. It also stressed that Russia should actively use its energy resources and transit infrastructure to increase its influence in world affairs, especially in Eurasia.
According to the institute, in pursuing these goals, Russia should take control of energy-transit infrastructure in neighboring CIS countries and continue its expansion into Europe and Asia. In its energy dialogue with the EU, Russia should refuse to ratify the Energy Charter and, instead of talking with the EU leadership, focus on separate relations with individual EU members, in particular Germany.
Shtokman Deal
It seems that the Kremlin is listening to this advice. Putin recently offered Germany the opportunity to be the exclusive distributor of gas from the giant Shtokman field in the Barents Sea, thus leaving U.S. companies, who had expressed interest in the deal, out in the cold.
But after conferring with French President Jacque Chirac, Merkel turned down the offer. In a joint statement, the German and French leaders said that both countries will develop energy cooperation inside the EU without a third party.
Explaining Merkel's decision, German Economy and Technology Minister Michael Glos, who belongs to Merkel's Christian Democratic Union (CDU), told the "Berliner Zeitung" on October 27 that Germany should not increase its dependence on Russian gas. "We do not know what course Russia will take after President Putin leaves the Kremlin in 2008 or who will run Russia in the next five-10 years," he said.
The Kremlin, however, is keeping the pressure on. Such tactics have borne fruit before, for instance with Germany's involvement in the construction of the North Stream pipeline, formerly known as the North European Gas Pipeline, despite objections from Poland and the Baltic states.
German-Russian Relationship
Germany has been singled out by the Kremlin largely because of its gas-distribution network and its strategic location in Western Europe. Moscow is attempting to seduce Germany by playing up the unification of Russian resources and German technology.
According to this theory, the Russian and German economies complement each other well. Germany is well advanced in areas such as chemical, electromechanical, and machine-building industries, which are underdeveloped in Russia. Russia, on the other hand, has well-developed defense, nuclear, and petrochemical industries, which are traditionally weaker in Germany.
The ball is already rolling. In January, Russia sold to the German industrial giant Siemens 27 percent of Silovye Mashiny, Russia's only producer of equipment for power stations and nuclear submarines. Siemens is the only foreign company to be allowed to buy into such a high-profile and sensitive Russian company.
German-Speaking President
Following World War II, there has been a history of strong Russian-German ties. Putin, who served in East Germany as a foreign intelligence officer, has added a personal touch to relations. He is the first Russian leader since Vladimir Lenin who speaks German fluently. He is also close to former Chancellor Gerhard Schroeder, who is now presiding over the construction of the North Stream pipeline.
On his most recent trip to Germany, Putin brought with him former Soviet President Mikhail Gorbachev, who is still hugely popular in Germany, to fortify his charm offensive.
Chancellor Merkel has followed a different course to her predecessor, Gerhard Schroeder. She has spurned a special relationship with the Kremlin and vowed to improve German-U.S. relations, which deteriorated during Schroeder's term.
However, there are a number of voices within Germany lobbying for closer ties with Russia. To some degree Merkel has her hands tied by her coalition government. Among her opponents are the Social Democrat partners in the government coalition. The Social Democrats control the German Foreign Ministry and have the support of some key German industrialists and bankers.
Playing Favorites
Because of the present correlation of political forces in Europe, Russia is likely to continue its strong line with the EU -- and unlikely to ratify the energy charter any time soon. According to the TV-Tsentr pro-Kremlin analyst, Aleksei Pushkov: "If we sign the charter, with our own hands we'll give the EU [a kind of political] unity they never will achieve without us."
Moreover, the fragmented and nascent nature of the EU's energy market makes it easy for Russia to play favorites. There is no single EU body or official responsible for EU policy in this area.
Speaking to RFE/RL recently, Edward Chow, a U.S. energy markets expert, characterized the EU's energy sector as a set of national markets that pursues their selfish rather joint interests.
The status quo suits Russia and its state-controlled gas monopoly Gazprom. The creation of a single energy market would stimulate competition, liberalize prices, and diversify supply -- none of which would be welcomed by Gazprom.
Russia And Global Energy Security
Russia And Global Energy Security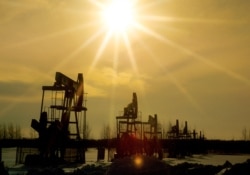 An oil field in Russia's Republic of Bashkortostan (TASS file photo)


ENERGY SECURITY is increasingly moving to the top of the EU's agenda in its dealings the outside world. A recent report identifies the European Union's main energy objectives as not just securing gas and oil deliveries from Russia, but also ensuring that it has reliable alternative sources, including in Central Asia. Nonetheless, EU officials say relations with Russia take center-stage in their thinking....(more)
RELATED ARTICLES
EU Maintains Codependent Energy Relationship With Russia
Turkmenistan: The Achilles' Heel Of European Energy Security
U.S. Official Urges Reforms In Energy-Producing Countries
ARCHIVE
A
complete archive
of RFE/RL's coverage of energy issues in the Caspian Sea region and Russia.