EU Urges Russia To Consult Georgia On Gas Prices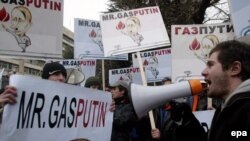 Anti-Russia protests broke out in Georgia in January after a gas stoppage (epa) BRUSSELS, November 3, 2006 (RFE/RL) -- The European Commission urged Russia today to consult Georgia about its plans to increase natural gas prices.
European Commission spokeswoman Emma Udwin said at a briefing in Brussels today that Russia should move to market prices at a pace with which Georgia can cope.
"We support a move to market prices, in general, and understand Russia's wish to move to market prices," she said. "But as we always say, that transition needs to be handled in consultation with the partner country concerned and conducted at a pace that the customer country can absorb."
Russia's natural-gas monopoly Gazprom on November 2 said it wanted Georgia to pay $230 per 1,000 cubic meters in 2007, up from the current $110.
Gazprom's announcement came amid the worst crisis in bilateral relations between Russia and Georgia in years.
EU officials are expected to raise their concerns about Russia's economic pressure on Georgia later today at a meeting with Russian Foreign Minister Sergei Lavrov in Brussels.
(with Reuters)
How Much Do The Neighbors Pay?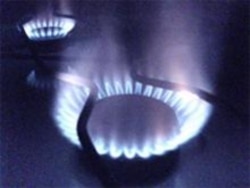 SETTING THE RATES: With Gazprom negotiating new contracts, many states will be paying more for Russian natural gas in 2007.
Belarus, following tense negotiations with Gazprom, will pay $100 per 1,000 cubic meters in -- up from $47 in 2006. Ukraine, which depends on Russia to supply it with about 77 percent of its gas, will pay $130 per 1,000 cubic meters of a Turkmen-Russian gas mix. Moldova, which depends on Russia for 100 percent of its gas, will pay $170 per 1,000 cubic meters, with the price rising to European-level market price by 2011. Georgia has agreed to pay Gazprom $235 per 1,000 cubic meters of gas.
ARCHIVE
A
complete archive
of RFE/RL's coverage of energy issues in the Caspian Sea region and Russia.