Outgoing EU Presidency Concerned About Russia, Belarus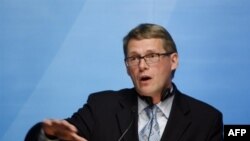 Finnish Prime Minister Matti Vanhanen (file photo) (AFP) December 18, 2006 -- Finnish Prime Minister Matti Vanhanen said today he regretted it had proven impossible for the EU to launch talks on a new comprehensive agreement with Russia before Finland's EU presidency concludes at the end of the year.
Vanhanen noted Russia's importance as a European partner, but also said Europe would like to see a greater Russian commitment to democracy.
He also denounced the authoritarian regime in Belarus, which he said was a "scar on the face of Europe."
(Reuters)