The EU Presidency, currently held by Finland, confirmed today that compromise talks with Poland had ended without success.
Poland has been blocking the EU-Russia talks in retaliation for a Russian ban on some Polish food products due to concerns over alleged failings in hygienic standards.
EU officials were hoping to secure a deal before the summit in Helsinki, Finland, with Russian President Vladimir Putin.
Putin arrived in Helsinki today for bilateral talks with Finnish President Tarja Halonen. On the sidelines of the talks, Russian and Finnish railway officials are expected to sign an agreement on a high-speed railway link between Helsinki and St. Petersburg.
Ahead of Putin's arrival, the European Commission described as unjustified a Russian plan to ban all animal imports from the EU from January 1 because of alleged poor animal-health standards in incoming EU members Romania and Bulgaria.
Enlargement Commissioner Olli Rehn said today that Russia's threat is excessive and threatens the outcome of the EU-Russia summit. He said the Russian threat is disproportionate and that there is the danger that it will affect the outcome of the summit.
(compiled from agency reports)
Russia And Global Energy Security
Russia And Global Energy Security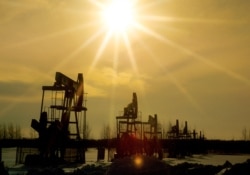 An oil field in Russia's Republic of Bashkortostan (TASS file photo)


ENERGY SECURITY is increasingly moving to the top of the EU's agenda in its dealings the outside world. A recent report identifies the European Union's main energy objectives as not just securing gas and oil deliveries from Russia, but also ensuring that it has reliable alternative sources, including in Central Asia. Nonetheless, EU officials say relations with Russia take center-stage in their thinking....(more)
RELATED ARTICLES
EU Maintains Codependent Energy Relationship With Russia
Turkmenistan: The Achilles' Heel Of European Energy Security
U.S. Official Urges Reforms In Energy-Producing Countries
ARCHIVE
A
complete archive
of RFE/RL's coverage of energy issues in the Caspian Sea region and Russia.