Poland Says EU Can Prevent Veto On Russia Talks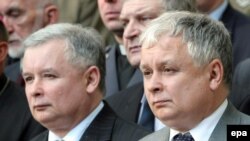 Polish Prime Minister Jaroslaw Kaczynski (left) with his twin brother, President Lech Kaczynski (file photo) (epa) November 21, 2006 -- Prime Minister Jaroslaw Kaczynski says Poland will not veto talks on a new European Union-Russia accord if the EU meets conditions that Poland presented in a letter to the EU's current president, Finland.
Kaczynski declined to detail the conditions in the letter.
Poland is blocking the talks, which had been expected to start at a November 24 EU-Russia summit in Helsinki, in protest at a Russian ban on some Polish food exports.
(Reuters)