Kyiv, Warsaw Want To Extend Pipeline To Poland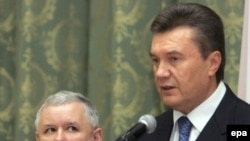 Ukrainian Minister Viktor Yanukovych (right) and his Polish counterpart, Jaroslaw Kaczynski (epa) November 15, 2006 -- The prime ministers of Ukraine and Poland today said Ukraine's Odesa-Brody pipeline should be extended to the Polish city of Plock and carry Caspian Sea oil to Poland and Europe.
Ukrainian Prime Minister Viktor Yanukovych, speaking after talks with his Polish counterpart Jaroslaw Kaczynski in Kyiv, said the two countries intend to work together to realize the project.
Kaczynski said there was sufficient financial support to complete the project.
Both premiers, however, noted that many details still need to be worked out.
Extending the Odesa-Brody pipeline to Poland to carry Caspian oil could help lessen Europe's reliance on Russian oil.
Yanukovych also offered help in trying to resolve current differences between Russia and Poland after Poland blocked the launch of talks on a new EU-Russia partnership agreement.
(AP, "Ukraiyinska pravda")
RFE/RL Belarus, Ukraine, And Moldova Report

SUBSCRIBE For weekly news and analysis on Belarus, Ukraine, and Moldova by e-mail,
subscribe to "RFE/RL Belarus, Ukraine, And Moldova Report."